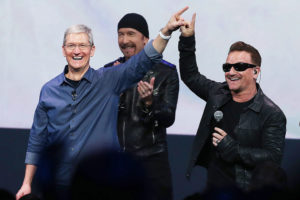 WEST LONG BRANCH, NJ– Apple is known for pushing the boundaries of user privacy; however, they may have one a bit too far this time.  After Apple CEO Tim Cook and U2 front man Bono uploaded the bands newest album, "Songs of Innocence" to the accounts of iTunes' 500 million customers on September 9, many Apple users have found themselves disgruntled with the brand and the band.
"This is a gift from Apple to their customers. They bought it and they are giving it away," stated U2 manager Guy Oseary in a New York Times article. The gift cost Apple a reported $100 million, according to The New York Times and is regarded as the "largest album release of all time," as stated by Cook.
Rather than appreciating the gift, many Apple customers are feeling violated after discovering the album in their library.  Despite the Apple's reputation for for intruding on their customer's privacy, finding the evidence of such an intrusion on something so personal as a cell phone is, for many, one step too far.
Many unhappy Apple customers took to Twitter to air their grievances.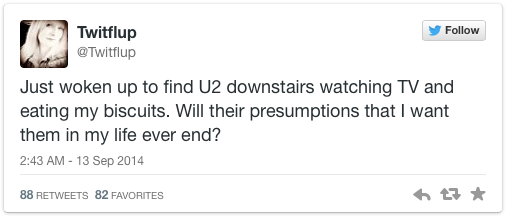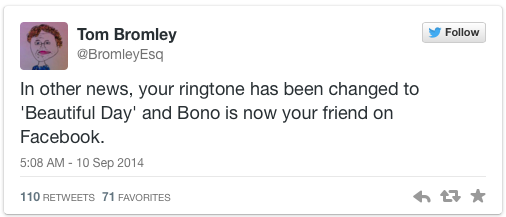 Chloe Masco, a Monmouth University transfer student, was also dissatisfied by Apple's gesture.  Masco stated, "I definitely think automatically uploading the album is a privacy violation. iTunes is all about being able to customize your music library to your personal preferences and then they turn around and literally shove music at you that you never showed an interest in hearing."
Many customers did not know the album had been added to their library until they happened upon it while scrolling through songs.  Monmouth University senior Jillian Lacognata discovered the album among her playlist while working out at the gym. "Its annoying. I don't listen to that music and it's just taking up space," stated Lacognata. "I want to know how to take it off."
This reaction seems to be shared by many of Apple's customers. In order to address customer dissatisfaction, Apple released a method for customers to delete the album from their iTunes accounts just six days after its release. To find out how to remove the U2 album from your iTunes library, click here.
Despite the overwhelmingly negative response to the U2 album release, some have recognized the benefits of an instantaneous, ubiquitous album release.
Monmouth senior Carly Long called the initiative "a smart promotional technique," after analyzing the release from a Public Relations perspective.  "It's giving people free songs and everyone downloads illegally anyway so [releasing the album directly to iTunes libraries] bypasses that," continued Long.
In a statement made on Apple's website, the company stated "Music has always been a big part of who we are and what we do.  This is the biggest album release in music history and one more way we're moving music forward."  U2's groundbreaking record release prompts one to question whether other bands will follow suit.  Automatically releasing albums to iTunes users may be the way of the future. However, with the backlash that both Apple and U2 are currently facing, it is unlikely that this method of album release will rise in popularity among other bands.
According to Apple's website, Apple's partnership with U2 began 10 years ago with the Red campaign, during which Apple came out with a line of special edition products specifically for the campaign.
"Songs of Innocence" is a compilation of U2's early influences, including Bob Dylan, The Clash, and The Ramones, as well as their time spent in Dublin and California.  Apple has characterized the album as "a collection of song writing and music made possible only by shared time and life experiences."