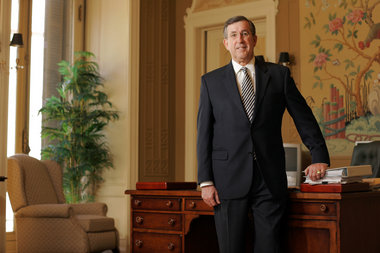 West Long Branch, NJ (The Verge) – President Paul G. Gaffney II will retire after ten years of service to Monmouth University, stepping down on June 30 of next year.
"The average age of the student of Monmouth is 20 every year; its always 20" Gaffney reflects. "Your always around young, fresh, reasonably happy people all the time… and I'll miss that."
As of right now President Gaffney and his wife Linda have no definite plans prior to retirement and don't plan on figuring that out until at least this upcoming summer or fall.  "I'll be 67 years old, and rightfully I could go off and play golf everyday. Just retire. I don't think it's just my style to sit around so I'll probably do something."
Gaffney explains that he needs to stay inspired from different activities as to not get bored. He would love to live overseas in Europe or Asia and just travel for months at a time. He is also thinking of going back to school to get a masters or doctorate in geography to add to his degrees in business and engineering while still staying involved on campus. But that would just be for fun, "it doesn't really make any difference whether I get C's or A's."
During Gaffney's ten year term he built the $57 million Multipurpose Activity Center (MAC), inspired the highest Monmouth student GPAs on record, and helped to initiate Monmouth's first doctoral program.
However, Gaffney's biggest achievement was his ability to created an identity for both the students and the school, "that was my goal when I came here; to try to let people see what a great place this is," he says. And because of what he's established, many people from different area codes are able to recognize the school as an established institution.
One of the challenges Gaffney faced while president was the small campus and limited resources he was provided. He knew even before going into office in July 2003 that the campus was filled to capacity. He recommended expanding the university due to the lack of offices, meeting places, and parking spots. Constructing buildings became very challenging because funds were limited.
Also at the time, local towns had a problem with the expansion, though Gaffney has worked to create a much better relationship with the surrounding community. In fact, Monmouth plans to move some of the Graduate Programs off campus to a safe area on route 36 to allow room for student growth on the city-like campus.
Monmouth's biggest celebrity is not only recognized for his presidency at the University, but also for his impressive military resume. A graduate of the U.S. Naval Academy in 1968, only a few of his many accomplishments include becoming the 10th President of the National Defense University, Commanding Officer of the Naval Research Laboratory in D.C., and Advisor to the Vietnamese Navy Combat Hydrographic Survey Team. But who is the real President Gaffney, and what did Monmouth mean to him?
Gaffney confesses that he never thought he would end up the president of a university. He was recruited for the Navel Academy as an athlete and agreed to stay for the five required years. "I would stay longer as long as I was having fun and being challenged; I'll keep staying… I stayed for 35 more years" His last job there as a naval officer was president of the university in the Defense Department, and after that applied for presidency at Monmouth. However, "nothing has been my lifelong ambition except to do interesting things." His entire life revolves around the things that keep him motivated everyday, which is certainly an example to live by.
Currently, the board of trustees is conducting a nationwide search in order to find a worthy replacement over this semester.
Most of Monmouth University will miss President Gaffney, just as much as he will miss the University. The Verge wishes him and his family good luck in the future and hope he finds the next journey to keep him motivated in the wonderful years to come!