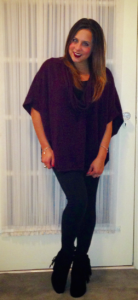 WEST LONG BRANCH, NJ – Autumn is upon us and as the leaves on trees change their colors, so do we. The four style statements to look out for the upcoming seasons are jewel, soft, neutral, and bright tones. This year, the designers want their clients to step outside the box and be daring with their clothing choices.
Jewel Tones have been prominent both on the runways and on the streets. So break away from your boring black and whites, because these rich colors are making this seasons clothing more vibrant and appealing. Navy, emerald, plum, burgundy, garnet, and citrine are just a few of the hues that will ensure an image of sophistication.
According to a We Connect Fashion article, jewel tones have become the leading color trend.  Popular hues include a variety of red shades from cranberry to crimson, as well as honey mustard, teal, orchid and cobalt.
"Ruby Red is my favorite jewel tone, because I feel powerful and as if all eyes are on me," said Monmouth University junior, Rebecca Wilson.  "I already bought a dress for the holiday season, a sweater, pants, and heels in this color. I can't wait to buy more of the tones that are trending for this fall and winter."
Soft tones are also making an impact this season.  According to the Fashion Plus Magazine, the colors to look out for are peach, baby pink, lilac and powder blue. These muted tones have been sneaking their way to the top since the beginning of 2014 and it is because they look beautiful no matter what time of year it is.
Neutral tones are in full effect and are a great way to bring an earthy vibe to any women's closet. Brown, khaki, gray, camel, black and white are all natural tints. These shades are essential, because they can be worn with any other colors. They are the basics, and these colors are what every man and women base their wardrobe on.
Monmouth University senior Anna Butts has truly embraced neutral tones in her wardrobe.  "On a daily basis, I wear a lot of neutral tones, with dark brown being my favorite color in my closet for the upcoming seasons. But, depending on the weather I love to accessorize with a mustard purse, or add a pop of color with the bright tones."
Bright Tones are bold and striking. According to a Fashion Trends article, the shades include, blood orange, tangerine, cherry, fuchsia, caution yellow, lime, cobalt, and cerulean. These vivid colors are meant to add luster to the seasons that are usually associated as gloomy.
[slideshow_deploy id='8343′]
Jewel, soft, neutral and bright tones can be found in any retail store closest to you. Here are some great tips to ensure you are wearing these colors correctly.
You can't go wrong with the jewel tones, because they look great on everyone. These deep hues flatter all skin types and hair colors.
All bright tones can be worn together, or paired with neutrals as a pop of color.Fashion neutrals are the building block to any wardrobe.
They are the safe colors and are also easily paired with any other shade on the color wheel.
If you have lighter eyes and skin tones then the soft tones are a perfect fit for you!
As you freshen up your fall and winter wardrobe, keep these tonal trends and fashion tips in mind to ensure a truly stylish season.