WEST LONG BRANCH, N.J. – A year ago, I ventured abroad to study in the historic city of Florence, Italy. It was the most amazing experience of my life.
The amount of details you learn is unprecedented, and not only about yourself, but also about other cultures. If you're looking into studying abroad in the next couple of semesters, do it. No holds barred.  However, if you do, be prepared for your 'dreaded' return home. Here are tips that could help:
1. First and foremost, when you get back, you are going to be bored. Every day is an adventure when you're studying abroad in another country. Whether you're sightseeing or just trying to navigate the local market, being in an unfamiliar culture is exciting. Going to your local park back home and doing your weekly grocery shopping is going to be depressing for a while, even though they're the same basic tasks you had been doing overseas.
2. You may feel a little bit trapped. If you studied abroad in Europe, you could hop on a train to a different country on the drop of a dime. Once you're back in good old New Jersey, you'll realize just how terrible our public transportation system is. Seriously, no one actually needs a car in Florence. I could walk to the other side of the city in approximately fifteen minutes, or be in a number of different countries in just a few hours' bus or train ride. If you drive for three hours in any direction when you're in N.J., wherever you end up won't be terribly different from where you started.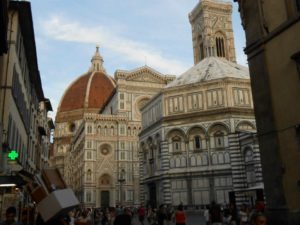 3. All of a sudden, money matters again. Whether your parents generously funded your international spending or you worked non-stop at the local ice cream stand over the summer to afford a plane ticket, when you're abroad, money does not seem real. The fact that Euros are pretty colors and look a little bit like Monopoly money does not really help the situation. It's easy to disregard that the same amount of money you spent traveling for a weekend in Europe is equivalent to your monthly rent at home. You just don't think twice about it while you are there, but when you're back in America, it hurts.
4. You realize that everything in America is giant-sized. When I first arrived in Florence, I was shocked at the size of the streets, the stores, and appliances in my apartment. My washing machine could fit all of three pairs of jeans in it. The market I bought my groceries at consisted of three sections, all the size of standard American rooms. Of course, as a tourist, I was annoyed by these things. Coming back home, I was overwhelmed by the size of my local ShopRite and got stressed out thinking about how much water we waste doing laundry.
5. You will be appalled by the laziness in fashion. Maybe I'm biased from studying in Italy, but everyone at least makes an effort to get dressed over there.  A t-shirt, yoga pants and flip flops were not acceptable items of clothing to leave the house in. At a typical American college, I can bet that a good amount of students roll out of bed and attend class in sweatpants or some kind of comfortable, athletic apparel. After a week in Florence, I put away all of my "lazy" clothes. When I came back home, I dug out my long-lost sweatpants and settled back into that gritty, American "style."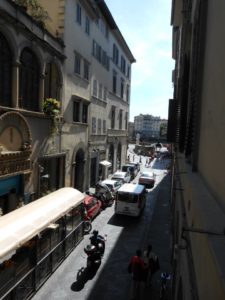 6. You're going to have amazing stories that none of your friends really want to listen to. They get it; you traveled the world, ate a bunch of amazing food, and met a bunch of friends from different countries. If you go on and on about your adventures, friends who haven't studied abroad will lose interest quickly. Sometimes your friends will be jealous of your experiences, but most of the time, they just can't relate to anything you're talking about. When you come home, give everyone a brief synopsis of your time, and tell them the one most amazing thing you did. If you feel the need to express all of your awesome feelings about studying abroad, keep a blog, connect with other past or future study abroad students, or write articles like this.
Studying abroad is like getting to live a completely different lifestyle for a semester. Even though coming back to "real life" might be temporarily confusing and upsetting, traveling and experiencing new things outweighs any negative reverse culture shock. If anything, studying abroad gives you a new perspective on the world.
If you are interested in spending a semester abroad (which you should be) contact the Assistant Director of Study Abroad, Robyn Asaro, in the Study Abroad office, located on the first floor of the Student Center, or check out the Study Abroad page on Monmouth's website.