WEST LONG BRANCH, N.J. – There is a new program on Showtime that, to say the least, is a tad risqué. Masters of Sex stars versatile actor Michael Sheen and the lesser known but very beautiful, Lizzy Caplan. There are a few things that draw you to this show.
First and foremost, it is based on true events. This does not mean the dialogue or the sub character plots, but the main theme of the show is said to be accurate! Another aspect that is great about Masters of Sex is the fact that it is set in the 1950's. Period pieces like this are extremely interesting and impressive, if done well. And finally, the actors and actresses in this show are extremely talented, making it even more enjoyable to watch.
The show centers on a doctor and scientist named Bill Masters. He is highly respected in his field of obstetrics at Washington University, and has waited a very long time and paid all of his dues in order to pursue a study in which he is extremely passionate about. Bill Masters' passion just so happens to be human sexuality.
However, during the 1950's, sexuality was not something that was discussed or studied. Not only does Bill want to study sexuality, but he does not plan on completing the study on paper…he wants to have human samples.The provost at the hospital obviously has much to say about this "smut" that Bill wants to bring to the university.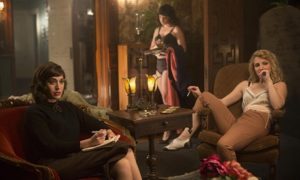 Lizzy Caplan plays a woman by the name of Virginia Johnson. She is a twice divorced mother who is not a typical woman of the 1950's. She is extremely sexual and the farthest thing from a "good homemaker." Bill Masters recruits her as his assistant for the study and she becomes extremely passionate about it as well.
The show is now headed towards its final episodes of the season and there is little negative commentary out there about it. As mentioned before, the study of human sexuality that Bill Masters did was one that actually happened, and entertainment based off of true events can be much more interesting, no? There is something about that "based off a true story" tagline that really draws you in.
Another great thing about Masters of Sex, is the time period that the show is set in. The 1950's was a time when everyone spoke dressed and acted differently. The show provides a very accurate portrayal of what life and people were like during this time. That historical accuracy really shows off the talent of some of these actors.
Michael Sheen is somewhat of a virtuoso, too. He has been in so many different things that it is hard to keep track of. Not only was he in the Twilight saga (you can decide if this is a good or bad thing), but he was also in Midnight in Paris, Frost/Nixon, Kingdom of Heaven, and Underworld. Sheen's work has been so versatile that it is easy to tell why he is so great in Masters of Sex.
Lizzy Caplan is lesser known, but I think that's why it is so amazing to watch her perform. She really holds her own next to Sheen. Caplan has been in projects such as Mean Girls, Cloverfield, Hot Tub Time Machine, and the series Party Down. Not at extensive work collection, but you would never be able to tell by her acting on this show. There are many other wonderful actors on the show that make up the plot line and really bring a lot of talent to Masters of Sex. Watch out for stars like Caitlin FitzGerald, Nicholas D'Agosto, and Beau Bridges!
Masters of Sex is definitely unique. People might say that it is too similar to something like Mad Men, but to disagree would be accurate. While it is set in the same time period, it is really nothing like Mad Men. The plot and characters are differ greatly, and Masters has a uniqueness of its own. The sexual content in the show might not be appropriate for all audiences, but it is extremely interesting to watch, especially in a manner such as this, even if it is for television.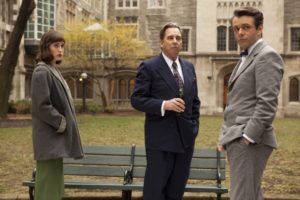 Senior Monmouth student, Samantha Conoscenti, just recently started watching Masters of Sex. "I had always seen previews on Showtime and I actually watch other Showtime series. I honestly wasn't interested in the plot, I didn't think I could relate, but the writing is so good, the women are so beautiful, and the idea of the show is just great. I'm really glad I got into it while it was still in the first season,"  she said.
Now that the first season is coming to a close, the thing to worry about is what they will bring to fans next season. It seems like their study is drawing to an end, which means the plot and characters may have to move in a new, unknown direction. Viewers will be left in the dark for the next nine months; but we'll all just have to tune back in for season two. Give it a watch!