WEST LONG BRANCH, N.J.–Anyone with an Instagram account knew that Coachella took place in Coachella Valley in California this past weekend. There were a few surprise performances, but the one that stuck out most was Kesha, who was asked by producer and DJ Zedd to sing his song "True Colors." This was the pop star's first performance since going through a legal battle with Dr. Luke, her collaborator and abuser.
Since her most recent court date, fans and celebrities have shown their support with the hashtag #FreeKesha on social media accounts. Zedd happened to be one of them when he tweeted her "@KeshaRose very very sorry to hear about the whole situation. I'll be happy to produce a song for you if you want my help."
It turns out Zedd was serious because, when he brought her out to sing his song, he even let her change the lyrics to better relate to her case. The original lyric to "True Colors" is "We have our masters," but Kesha sang "I have no master." The powerful statement had the crowd going crazy. Pictures, tweets and videos were being posted with captions along the lines of "Kesha is FREE."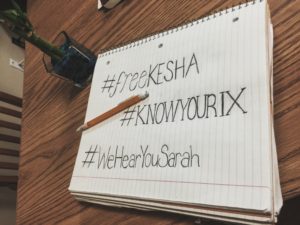 According to Digital Spy, Kesha first sued Dr. Luke in October 2014 for drugging, raping, and emotionally and verbally abusing her. Since then, the court has not ruled in her favor and decided that she would not be allowed out of her contract because it was the "commercially reasonable" thing to do. This meant that she would have to either work with her abuser and still be under his power for at least six more albums. She is still fighting her legal battle but it does not seem the outcome will side with her.
Recently, the pop star posted on her Instagram account explaining that she was offered freedom from her contract if she were to make a public apology and lie. Dr. Luke and Kemosabe Records were going to let her leave if she came out and said that she was never raped. Her caption to this Instagram post read, "So. I got offered my freedom IF i were to lie. I would have to APOLOGIZE publicly and say that I never got raped. THIS IS WHAT HAPPENS behind closed doors. I will not take back the TRUTH. I would rather let the truth ruin my career than lie for a monster ever again."
Dr. Luke claims that he never raped Kesha and that the pop star started this battle to try for a better record deal. However, Kesha has made it clear that her only motive is getting the truth out. The musician is helping other victims see that it is the right decision to speak out against assault.
Kesha's case is just one example of how sexual assault in the United States is handled horribly. Victims of rape and sexual assault are constantly silenced, and even the few who speak up are accused of lying. This is exactly what's happening to Kesha and, as reports about a sexual assault on campus as emerging indicate, to people around you. As a community, we need to start fighting for human rights and speak up for those who are silenced.