WEST LONG BRANCH, N.J.–During the first week of March, the Monmouth County area had two days in a row where temperatures reached above 70 degrees. After the last brutal winter, most residents in New Jersey would have liked it to stay that way.
However, as the first week of spring is among us, snow somehow is too. The tables have turned and what is hopefully the final snow forecast of early 2016 has reached meteorologist screens across the area. According to NJ, the coastline will be affected the most with snowfall reaching up to 4 inches from Sunday night into Monday.
This snow was not expected for most considering the warm spell the shore just had, and the fact that Punxsutawney Phil did not see his shadow. Whether it is 1 inch or 5 inches, it is still an interesting if not contradictory and unwelcome end to Monmouth student's spring break period.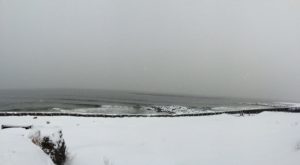 Despite last year being the 19th warmest worldwide winter season on record, according to Weather, this winter was colder than usual with a handful of days hitting near negatives. The climate continues to change drastically every year, in ways that include temperatures, precipitation, sea levels, carbon dioxide, and much more.
According to NASA, the 10 warmest years have been in the 2000s, and carbon dioxide levels have skyrocketed from 395.99 parts per million in 2013, to 403.19 ppm in 2016. This is significant because natural gas at high levels can increase temperatures. The downfall is that 84 percent of these gases are emitted from human activity, not just natural causes anymore. These gases affect the atmosphere and sea level most extremely.
NASA is not the only entity that cares about these developments. In receiving his recent award for Best Actor at the Oscars, Leonardo DiCaprio drew attention to the topic. He used his speech time not only to thank the people who worked with him on "The Revenant" but also to make a heartfelt appeal to change our behavior.
"Climate change is real. It is happening right now," he explained. "It is the most urgent threat facing our entire species, and we need to work collectively together and stop procrastinating."
As we approach April, confusion about where the weather will go next appears. Fluctuating back and forth between warm and chilly weather is not only disorienting in general, but also especially detrimental for people with allergies. According to Weather, "for people with allergies, variable weather, changes in barometric pressure, and rain can exacerbate symptoms." Even for people without allergies, the weather changes definitely have the ability to put a damper on one's day, whether it makes them grumpy or gives them a short-term case of the sniffles.
With the already assured snow forecast, there's only one thing to do right now–grab your hot chocolate and turn on your Netflix. Here comes another week of winter.
https://www.youtube.com/watch?v=TGCNjZUd2tU