WEST LONG BRANCH, N.J. – It's that time of the year again; stockings are being hung, cookies are being baked, and trees are being decorated.  The holiday season is a time filled with joy, happiness, and giving, but sometimes that last part can be a little problematic.
Trying to find the perfect gift for everyone on your list while  not going broke can be filled with anything but joy.  How many times have you searched through countless stores, both online and in the mall, only to find that anything worth buying is out of your budget?  Most people have faced this dilemma one year or another and look to sales and special offers to try to lessen the load.  Unfortunately, paying that credit card bill even with all the sales can be rough!
So, what else can you do other than hold out for coupons and sales?  This year maybe the answer is to skip the crowded malls and stop paying extra for expedited online shipping.  Instead, embrace your inner Martha Stewart and make presents for everyone on your list! Crafts and do-it-yourself projects can seem a bit overwhelming and difficult to find just the right one.  Pinterest and Etsy are great resources to get ideas, but here's a few that may just be the perfect gift for someone on your list!
Origami Business Card Holder : It is so important to always have a business card handy just in case there is a networking opportunity, and handing a potential contact a wrinkled card definitely does not leave the best impression.  This origami business card holder would be perfect for someone just starting out in the workforce.  The website has a step by step picture tutorial and seems pretty simple.  It calls for construction paper or other heavy weight papers, but using fabric is another option as well (how great would it look in a faux leather?)!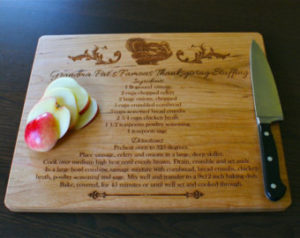 Recipe Cutting Board : Does someone on your list have a favorite recipe that their mom, dad, or grandparent used to make?  This gift would take a little sneaking around, but it is something that would mean a lot to the recipient.  Grab the recipe and transfer it onto a cutting board that can be displayed in a kitchen.  The example shows burnt recipe text on the wood of the cutting board, but you could easily transfer the text by either writing it in your own handwriting or making a stamp of the original text.
Colorful Coasters : This project is very basic and involves decoupaging pieces of scrapbook paper onto tiles.  As explained in the example, four coasters can be made in less than two hours and the materials are extremely inexpensive.  These are great for someone who is spending their holiday in a new home and can be made to match their house completely!  For added individuality, you could decoupage pictures onto each!
Post-It Presents : Have a friend that is constantly writing notes on post-its?  This simple craft is made for them (no pun intended!). These post-it stands can be made by picking up a pack of post-its, a clear frame, and some scrapbook materials to decorate.  Use the recipient's favorite color, sports team, or anything at all that is special to them to make it one-of-a-kind!
Dessert Stands : Our parents have always told us, never show up to a party empty handed.  The holidays are filled with get-togethers and sometimes, it can be difficult to decide what exactly you should bring for the host.  Laying out an assortment of desserts on a handmade dessert stand would make your gift stand out and be something special for whoever has graciously welcomed you into their home!
These are just a few of the many gifts that can be made by spending a couple hours at work.  Of course, not everyone enjoys painting, sewing, or drawing, but there are projects out there for all different skill levels. People on your list will be amazed when they find out that you spent the time to make something special for them!  Plus, you'll have a little bit of money left over to treat  yourself, too! Enjoy the crafts, and Happy Holidays!