On Thursday, April 9, Monmouth's very own Shadow Lawn will be transformed into an outdoor concert for students and faculty from 6 p.m. to 9 p.m. The three-hour event, called Melodies by the Sea, is the inaugural of what is set to be an annual fundraiser for a local nonprofit organization.
For months, the students involved in the Monmouth chapter of Public Relations Student Society of America and Shadow PR Firm have been working tirelessly to make the benefit a success, collecting string lights and silent auction items as well as finding musical guests and sponsors. All the proceeds from the $5 tickets, auction, and donations will go toward Ocean Grove-based Mary's Place by the Sea, where women with cancer can go to relax and heal.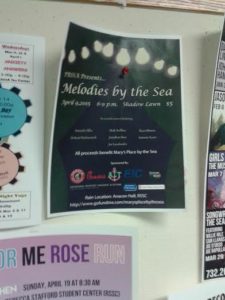 Professor Mary Harris, who divides her time on campus teaching Communications classes and being an advisor for PRSSA, expressed how she feels for an organization that she holds dear to be the focus of this week's event.
"We are thrilled to be representing such a passionate and ethical nonprofit," said Professor Harris. "Mary's Place truly embodies compassionate care and dignity for all people."
According to Professor Harris, PRSSA and Shadow PR Firm have set their goal for the event at $5,000. A week before the event, the student organizations had already raised over $3,000, more than half of the goal. They are banking on winning bidders during the event's silent auction to add to the total sum.
Theme baskets with a variety of different items from brands such as Waterlily, Betsey Johnson, and Yankee Candle will be available during the silent auction. The Melodies by the Sea event organizers plan to send out pictures and descriptions of each basket via email to the campus community a few days before the event.
Musically, the event will be carried by exclusively acoustic acts who hail from the halls of the university or from surrounding areas. The artists lined up for the concert include Amanda Siller, Brittani Hrehorovich, Antonio Scavo, Joseph Lacalandra, Ross Ottman, Jonathan Bass, and Matt Avellino.
One of these musicians, Ross Ottman, a junior studying Business Administration, has been eagerly preparing his set list for the event with his acoustic guitar.
"I'm really looking forward to playing some of my original music from my band, The Rundown," said Ottman.
Aside from the great number of silent auction items and acoustic tunes, attendees can also expect delicious food at Melodies by the Sea. PRSSA and Shadow PR Firm managed to secure catering from sponsors Chipotle and Chick-Fil-A.
With so many selling points, the student-run PR organizations cannot find a reason for students to say "no" to the event. Professor Harris agrees.
"We hope the whole Monmouth community will support this unique event," she said.
If you would like to fulfill Professor Harris' hope, you can purchase tickets to Melodies by the Sea from student representatives in the Dining Hall, Student Center, and at the event. Likewise, you can donate to help PRSSA and Shadow PR Firm reach their $5,000 goal by visiting the Melodies by the Sea GoFundMe page.