WEST LONG BRANCH, N.J. – On October 9th, Donald Trump and Hillary Clinton took the stage yet again for the second debate of the 2016 presidential race. Registered voters from the St. Louis area who have yet to commit to either candidate were randomly chosen by Gallup to attend the event and ask questions. Debate moderators Anderson Cooper of CNN and Martha Raddatz of ABC asked questions as well.
The candidates chose to skip the traditional opening hand-shake, and jumped right into the debate instead. This time, Trump started attacking Clinton from the beginning, unlike the previous debate, where he appeared to be more calm and on the defense.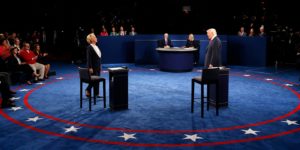 Clinton came out smiling and composed, just as she was in the first debate. She immediately took advantage of the recently leaked video from the Access Hollywood archives that features Trump having an "extremely lewd conversation about women" by forcing him to confront the topic. Trump responded by apologizing for his statements and attacking back by bringing up how Clinton defended a man who she knew was guilty of raping a twelve-year-old girl, and she then proceeded to mock the justice system by saying "she doesn't trust polygraph tests anymore."
According to an article from the Washington Post, "Trump was much more solid and energetic in this debate than in the previous tilt. He was able to drive messages on Clinton's email scandal, the Clinton Foundation and Benghazi. He dealt with his hot mic tape in (relatively) short order. And he ad-libbed a terrific line after Clinton cited Lincoln to explain her impolitic comments in front of a Wall Street audience. Trump said "She lied, now she's blaming her lie on the late great Abraham Lincoln, Honest Abe," which appeared to amuse the audience. Clinton seemed taken aback by this side of Trump, and all of his supporters were wondering where this Trump was in the first debate.
Trump then brought up how Clintons' husband was accused of raping women. Shockingly, she had no rebuttal; she simply said, "when they go low, you go high". However, this is a bit of a hypocritical statement, as she has taken many vicious blows at Trump. But Trump showed no civility for Clinton, as he called her a liar and described how she has accomplished nothing in her career. A highlight of the evening was when Trump told her that, if he were president, she'd "be in jail". Hopefully, despite all of this hate, one of these candidates will actually be able to do something good when elected.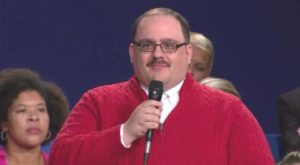 Some would say the real winner of this debate was the man who stole America's heart with one question: "What steps will your energy policy take to meet our energy needs while at the same time remaining environmentally friendly and minimizing job layoffs?" The asker, Kenneth Bone, is just an ordinary man who was happy to chosen to participate in this historic debate. He had no idea he was going to become an internet sensation. After his appearance, social media blew up with Kenneth Bone memes and jokes, and people have bought the entire supply of the red Izod sweater he wore that evening. Audiences also took note of the disposable camera he was snapping pictures with, since cell phones weren't allowed in the debate center.
America's priorities start to seem a little out of line when the most popular topic from the debate is a middle aged man in a red sweater using a disposable camera, rather than the issues discussed by our presidential candidates. Hopefully the focus will be realigned during the third Presidential Debate of 2016, which will take place at the University of Nevada, Las Vegas at 9:00 PM (ET) on Wednesday, October 19. The debate will be shown on all major cable news networks and will be streamed on their websites, as well as on YouTube and Twitter.