WEST LONG BRANCH–Marvel Entertainment's Ant-Man soared into theaters July 17 and has grossed $132 million to date in the United States alone. Created by Stan Lee, Larry Lieber and Jack Kirby, Marvel Entertainment introduced the first superhero into the realm of comedy — a superhero capable of shrinking down to bug size as well as controlling the minds of ants. Yes, really.
Although Marvel continues to surprise us, especially with the new release of Deadpool — Marvel's first R-rated superhero — it leaves viewers questioning whether dramedy be the new angel for the Marvel universe.
The comedy crossover to dramatic roles can be a tricky transition and requires a certain technique – never letting go of that wacky charisma. Yet not every actor survives the journey from laughs to smug impressions.
Paul Rudd, who plays Scott Lang, the man behind the superpower suit, has a couple of serious roles under his acting belt, such as The Cider House Rules where he plays military veteran and amputee Lt. Wally Worthington. But for most of his career, Rudd has stood closely to the safety of comedy and what the genre had to offer with roles in movies like Clueless, This Is 40 and I Love You, Man.
So when it came time, the comedian suited up to play a role that would super-charge not only his acting career, but his transition to a writer.
"When I worked on the script [of Ant-man], I worked with Adam McKay whom I worked with on Anchorman which was a very broad comedy," said Rudd in an interview with IGN. "I guess both of us who like levity; we use comedy to enhance the story or or the drama and that was what we did in this case. Most of the work script-wise was story related with a dramatic arc and dialogue."
And nothing showcased his history of comedic roles more perfectly than the introduction of Falcon, the newest Avenger introduced in Captain America: The Winter Solider. Falcon questions Ant-Man's name and Rudd retorts that "Iron Man was taken," poking fun at the comic book title created in 1962.
Not only did the hilarious cameo allude to Ant-Man's return and a possible relationship with the Avengers, but it also resulted in a show-down between, well, bug verses bird.
If that wasn't enough, Rudd took another stab at Ant-Man's name when Lang asked Dr. Hank Pym, played by Michael Douglas, if it was "too late to change the name." A second hit. Ouch.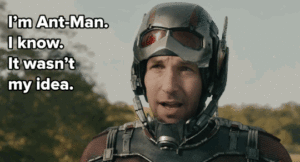 Rudd wasn't the only comedy persona on set to take on a job bigger than his alluded size.
Peyton Reed joined Marvel's cinematic universe after Edgar Wright exited the film. Peyton Reed is most famous for directing Bring It On, Yes Man and The Break-Up starring Jennifer Anniston and Vince Vaughn, so it was no surprise people were a little on the edge as to whether Reed could fill the shoes. However, in the end, Reed can be added to the list of successful comedy crossovers.
Dan Lebental, a Marvel studio veteran who edited Iron Man, Iron Man 2 and Thor: The Dark World, cemented this.
"If it wasn't for Peyton Reed's demeanor and extensive knowledge of Ant-Man and Marvel, I can't imagine how we would have pulled it off as well as we did" said Lebental in an interview with The Hollywood Reporter. "He had the comedy background and the tone, and also stepping in the way he did he knew how to take control and keep it fun and light."
A final break-out face is End of Watch's Michael Peña, who joined the cast of Ant-Man as Scott Lang's cellmate. The story isn't the same, however, as Peña's crossover started on a more serious side. Peña is best known for his dramatic roles in Cesar Chavez and most recently Gracepoint, a TV mini-series that aired on Fox with Breaking Bad's Anna Gunn. Against all odds, Peña landed the title "Ant-Man's comedic breakout" by Entertainment Weekly.
So where does Ant-Man leave the audience?
"I think for someone that has never seen a Marvel movie or read a Marvel comic, if you see a poster — Ant-Man! — it's like, come on, what is that?" said Reed in an interview with The Verge.
And it's true — until you see the movie and its remarkable cast that can seamlessly transition between genres.