WEST LONG BRANCH, N.J.–It's one of the classic debates among Americans regarding alcohol. What should the drinking age be?
Currently in New Jersey, the drinking age remains at 21 years old, but a lawmaker from Morris County wants to see that change. In an interview with NJ Advance Media, Republican assemblyman Michael Patrick Carroll said, "If you're old enough to hoist an M4 and shoot a terrorist, you're old enough to hoist a beer."
Although the current age of consumption is 21, it has not always been that way. Before July 17, 1984, the drinking age in the U.S. was 18 years old, according to the National Youth Rights Association.
In 1984, the movement to raise the drinking age was actually started by the late former Senator Frank Lautenberg of New Jersey. It is only fitting then, that a resident from the same state wants to lower it back to 18. According to NJ.com, legislation has been put forward in Trenton regarding this before, but none of it ever made any headway.
One of the leading reasons for this is that any state which raises its drinking age could lose millions of dollars in federal highway funding from the federal government, also according to NJ.com. In other words, the government would allow states to have their own laws about the minimum drinking age, but the threat of losing money has kept all states from changing it.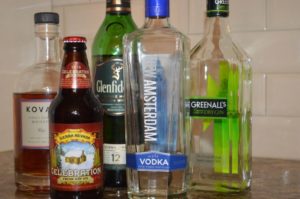 Assemblyman Carrol, as well as Assemblyman Declan O'Scanlon of Monmouth County, believe that the government is extorting the states by imposing this. Both feel it is unjust and that the state should be allowed to lower the drinking age without fear of a penalty.
Not all members of the State Senate agree, though. N.J. Senate President Stephen Sweeney thinks that it is a poor idea because he foresees underage drinking occurring even more regularly at even lower ages.
In an interview with NJ.com, Sweeney said, "I grew up when the drinking age was 18. People would be sneaking into bars at a much younger age."
Students of Monmouth University have mixed feelings about the proposition as well. Monmouth University senior Will Gary, 22, describes the bill as a something that doesn't fit the current time.
"When our parents were 18, the country was different, and drinking at that age was normal," said Gary. "Today the same just wouldn't work. Times have changed and a lowered drinking age would be a bad idea."
Others have slightly different reasons. A Monmouth student who wished to remain anonymous is on the opposite end.
"In my experience most college students drink underage anyway. I'm 19, and find ways to get it regularly. Lowering the age would just make it easier to get," she said.
Another argument is that in much of Europe, 18 years old is the drinking age. In fact, according to Procon, the vast majority of the world allows drinking before the age of 21.
Historically, the odds for this bill being passed are not good, especially since it's in the New Jersey's favor economically to oppose it. However, it it were to be passed, it would certainly be a historic bill for the state.
https://www.youtube.com/watch?v=MbsB3DyDfOg&feature=youtu.be