WEST LONG BRANCH, N.J.–On Wednesday February 24, 2016, Monmouth University featured the film "The Hunting Ground," an eye-opening story about the sexual assault present on college campuses.  Students from an array of organizations and clubs filled Pollak Theater to experience this event.
"I'm not really sure what this event is about to be honest," said sophomore Lauren Zborovancik. "From the title it sounds like deer hunting or something."
This event was surely not about deer hunting. Instead, it was about human hunting, and the hunters' goal: rape.
In 2012, 45 percent of colleges reported that no sexual assault was present on their campuses. However, more than 16 percent of women are raped on college campuses across the country.  About 88 percent of those rapes are not reported. Only 2 to 8 percent of rapes that are reported are false. And worst of all, 97 out of 100 rapists do not face punishments for their actions.
When these statistics appeared on the screen, tortured gasps from the audience were heard. Sounds of disgust escaped their mouths. Heads were shaking in disapproval. And more often than that, there was pure silence from utter shock. The statistics may be horrifying, but they are reality for the victims of sexual assault depicted in the film.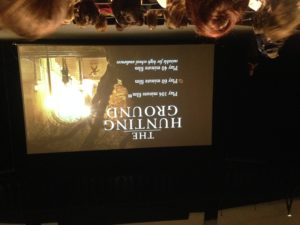 The film followed the stories of college students–both men and women–who were victims of sexual assault on college campuses.  All of these victims were blamed for their rape.  All of them felt ashamed.  All of them were told what they could have done differently if they could relive that terrifying experience. All of these victims were under the impression that what happened to them was their own fault.
All the victims' rapists in this film were never charged.  Their respective colleges and universities never took any action against the perpetrators. One administrator at Harvard University even called a victim's accusations "wrong" and "untrue."
The ultimate message of this film is to get the world to wake up and realize the rape culture on college campuses exists and needs to end. Moreover, as institutions of high education, students and faculty need to stand together and support victims.
"I learned a lot about the rape culture on college campuses by watching this film," said sophomore Casey Selleroli. "It's definitely something students should see if they have not already."
However, some horrifying facts from this film left some students wary of the future of rape culture.
"The film made it seem like if you get raped at college, there's no hope for the rapist to be reprimanded in the right way," said sophomore Darby O'Kane. "It's kind of terrifying."
This is the kind of statement that should make colleges and universities realize that rape culture is real, that it is happening, and that it needs to be taken seriously. According to the film, 95 percent of college Presidents say that they handle sexual assault cases "appropriately," yet they have no proof showing that they do.
It is important for college students to support one another and stand behind victims of sexual assault and rape. Monmouth University is taking the right steps in getting students and faculty informed about rape culture on college campuses. "The Hunting Ground" viewing was a great way to get a dialogue started on campus. Hopefully, it will open the door to new ways of eliminating rape culture.