WEST LONG BRANCH, N.J. – On Wednesday, October 19th at 10 p.m., Monmouth University students gathered to promote eating disorder awareness at Delta Phi Epsilon's annual vigil for their philanthropy, the National Association of Anorexia Nervosa and Associated Disorders (ANAD). The sorority charged $5 per ticket when purchased in advance, $7 at the door, and proceeds went to ANAD. Amanda Longobardi, sister of Delta Phi Epsilon, was in charge of organizing the event.
At the event, the sisters shared facts about eating disorders and showed some videos that emphasized the weight of body image in society, including one from the Dove Real Beauty campaign. Additionally, three students presented their own personal stories of their connections to the cause.
Kelly Santoriello, junior at Monmouth and sister of Phi Sigma Sigma, was the first to share her story. She explained that she was hesitant at first to reveal her struggles as she feared people would look at her differently. She discussed how her struggles had been rooted in her for as long as she could remember, and that she still struggles with body image to this day. She spoke to let others know that they are not alone.
The second student speaker was Lauren Mrazik, University senior and sister of Delta Phi Epsilon. She shared the story of her life-long best friend's battles, to encourage anyone who notices that their friend may be struggling to speak up about it. "I'm so proud of how far she has come," said Mrazik.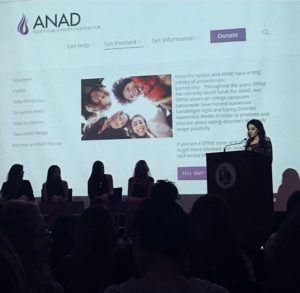 The final speaker was senior and sister of Alpha Xi Delta, Jessica Lavitol, who has told her story at this event once before. Lavitol discussed her struggles throughout high school and how she hit a low during her freshman year of college while trying to adapt to a new environment. "I have learned to measure myself in strength, not pounds," she said. She explained that in high school, students are taught very briefly about eating disorders. Students are told that there are two types of eating disorders, anorexia and bulimia, but curriculums fail to dive much deeper into the subject matter.
The sisters of Delta Phi Epsilon put together a heartwarming and eye-opening event that raised awareness on campus about a cause that means so much to them. Longobardi thanked everyone for coming to the event on behalf of the sorority, and said, "it means so much to see so many people willing to support something we all hold so close to our hearts!"