WEST LONG BRANCH, N.J.–You may have noticed that this December seems strangely warm. That is because so far, it has been. This month is a bit different than last December, when winter storms moved through the East Coast several times before the end of the month.
Despite the fact that the Winter Solstice is not actually until December 22, you would expect December temperatures to be at most in the 40s, rather than the 60s. This can likely be attributed to this year's El Niño winter weather pattern, a weather event which tends to bring above-average temperatures and wetter-than-average conditions to the East Coast, according to The Weather Channel.
Despite this warm weather, some ski resorts have been open for several weeks while they continue to make snow and open more trails.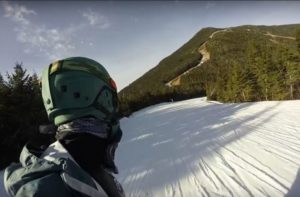 Over this past weekend, I took a road trip to one of these places: Lake Placid in New York. Lake Placid was home to the Olympic Winter Games in 1932 and 1980. It is about five and a half hours from the Monmouth University area and is so far north into New York that it is actually only about an hour drive from the Canadian border.
I went there to ride Whiteface, a ski resort just outside the town which features the largest vertical distance of any ski mountain on this coast. Being a large mountain relatively far north, you might expect large amounts of snow and frigid temperatures, but I can tell you this was not the case.
Whiteface had eight trails open over the weekend, which was enough to piece together one central run from the top of the gondola to the mountain's base area. With the mountain's large vertical height, however, it still felt like you were taking a real run. Even with pre-season conditions, Whiteface still blew away any mountain in southern New York or eastern Pennsylvania in the middle of the season. That said, the snow was pretty much totally man-made, but it was better than nothing.
On Saturday, crowds were pretty large for so few trails open, making the lines long and the conditions worse later in the day. I spent this day really getting comfortable again on my snowboard and trying to get back to the level I achieved at last season's end.
By midday, I was feeling good and having lots of fun. Overall, on this day, conditions were good near the summit with some sugary (fake) powder and a few ice patches. The lower half of the mountain remained soft and slushy, with spring-like conditions for most of the day. I enjoyed this because the soft snow was perfect for taking falls, but the harder, more frozen snow near the top was just as great for going fast.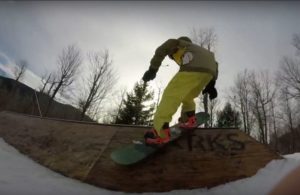 On Sunday, crowds and conditions improved. I got to the mountain at just about opening time and the lines were nowhere to be seen. As the day went on however, crowds did grow, but to a much smaller size than the day before.
Conditions overall were better at first, with less ice and less slush. As the day went on, however, very warm weather from summit to base softened all the snow. I actually really enjoyed the wet, heavy snow because of its surfy feel and softer area to fall on when trying tough tricks. My friends and I even got out the camera to film each other's tricks.
By day's end, most of the mountain was in full spring mode and the crowds totally disappeared. I even got a few gondola rides totally to myself. I would say it was worth the drive and was a great first weekend on the slopes.
Think snow!