WEST LONG BRANCH, N.J.–Girl Scout cookie season is upon us once again. Scouts across the nation are infiltrating every suburb from West Long Branch to San Francisco to spread the joy of Tagalongs, Samoas, head-shaped shortbreads, and, perhaps most importantly, Thin Mints.
Ah, Thin Mints. How do I love thee? Let me count the ways. The delicate crunch, the refreshing blast of peppermint, the indulgent layers of chocolate–all flawlessly blended into the confines of a single ethereal cookie. A box of these might actually be the eighth wonder of the modern world.
Unfortunately, eating 20 Thin Mints for every meal is not considered "healthy" or "adult." Who knew? But fear not, because I have successfully created a recipe that turns these discs of pure perfection into an acceptable breakfast food. This recipe is quick, simple, vegan depending on what milk you use, and even has a fat-free option!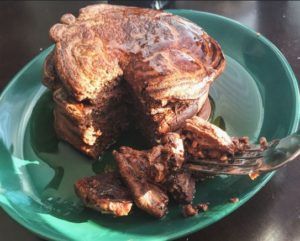 Ingredients for one serving:
½ cup flour (white or whole wheat)
2 tbsp cocoa powder
1 tsp baking powder
1 stevia packet (can sub sugar to taste)
pinch salt
1 tsp vanilla
½ cup milk or water
1 tbsp oil (can substitute nut butter, mashed banana, or applesauce for fat free pancakes)
½ tsp peppermint extract
To make these glorious pancakes, first whisk together the dry ingredients with a fork until they are well combined. Stir in the remaining wet ingredients, and add more milk or water if the batter seems too thick–the thicker the batter, the thicker the pancake, so adjust to your liking. Melt the butter in a skillet or spray with nonstick cooking spray, and pour the batter onto a hot pan.
Typically, I add about 1/4 cup of batter per pancake, but you can make them as large as you prefer. Make one giant pancake if you want. Do let me know how that turns out. Flip the pancakes when the edges look cooked or the batter starts to bubble.
I saturated each pancake with a healthy serving of Nutella and maple syrup. If I had whipped cream, I would have loaded that on there too. For some crunch, you could top with granola or you could throw caution to the wind and sprinkle crushed up thin mints atop this mountain of breakfast glory. However you serve them, one thing's for sure–a meal like this definitely makes getting out of bed a real piece of (pan)cake, even for the grumpiest of scouts.