WEST LONG BRANCH, N.J.–On March 28 at 10 p.m. Phi Kappa Psi hosted its annual Monmouth's Got Talent event in Anacon Hall to raise money for their philanthropy, the Boys and Girls Clubs of America. A huge crowd gathered to support the cause, generating just over $2,500 in donations for the organization. The huge turnout left some audience members sitting on the floor or standing against the wall.
The event, which was hosted by Phi Kappa Psi's Tom Curry and Zeta Tau Alpha's Maddy Kislovsky, showcased a variety of talent at Monmouth. Some acts included brother and sister duo Justin and Alina who sang a collaboration of popular songs and immediately captured the audiences' attention. Alpha Xi Delta's three dance team members Dana D'Agostino, Megan Ferguson, and Shannon Marren performed an original number. Phi Sigma Sigma's Nicole DeSarno sang a memorable rendition of Alicia Keys' "If I Ain't Got You".
While it was a close contest, Justin and Alina stole first place with their catchy harmony and undeniable talent. With songs such as "Shut Up and Dance" by Walk the Moon and "Apologize" by One Republic, their performance provided a perfect combination of throwbacks and current hits that seemed to win the crowd over.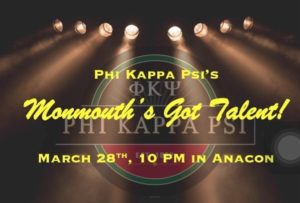 Tianna Fougeray and sister of Alpha Xi Delta supported her friends and said, "My sisters killed it on stage! They always dance their hearts out and the three of them mesh so well together. All of the competition really gave their all."
Student Julianna Emilio said, "I want Nicole DeSarno to sing at my wedding."
The audience members were not the only ones who recognized the talent on stage. Contestants Justin and Alina related what a fun time they had performing at the show and commented on the amount of talent they saw on campus.
Alpha Xi Delta contestant Marren echoed this sentiment, saying she was amazed watching the talent and thanking Phi Kappa Psi for the good times facilitated by the event.
The audience members likewise appeared to be in awe of the talent, but they also applauded Jordan Maly of Phi Kappa Psi for putting together such a successful show–one that kept the audience enthralled until around 12 a.m. Everyone seemed to have a great time while helping the fraternity support their philanthropy.