WEST LONG BRANCH, N.J.–On March 30 at 10 p.m., Alpha Xi Delta hosted its annual Karaoke for a Cause event in Pollak Theater. All $2,000 of the proceeds went to Autism Speaks to raise money and awareness for the organization's philanthropy. April is Autism Awareness Month, so sisters Kristen Kennett and Ali Hart organized the event to kick it off and #lightitupblue!
The theater was completely filled come showtime. Alpha Xi Delta sisters Madison Conroy and Bryce Petraccoro co-hosted the event with Tau Delta Phi's Paul Matt, running the show with their unique senses of humor.
A total of 10 contestants performed, singing a variety of different musical genres DJ'ed by Delta Tau Delta's Forrest Taylor. All of the contestants did a fantastic job belting out their karaoke favorites, but a few winners had to be chosen.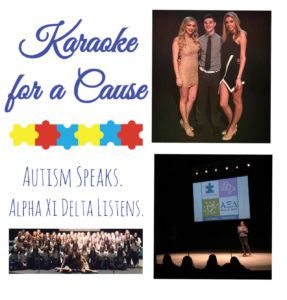 In the end, Keith Lee of Alpha Kappa Psi took home the gold, winning over the judges with his emotional rendition of Ne-Yo's "So Sick." But the judges were not the only ones Lee won over.
Junior Victoria Wright said, "Keith, two options: either sing at my wedding or marry me." Brian Foye, brother of Sigma Tau Gamma, asked, "Is there anything Keith Lee can't do?"
In second place was Amanda, who showcased her musical talent by singing Paramore's "Brick by Boring Brick" while playing along on the guitar. In third place was Kara, who sang "Before He Cheats" by Carrie Underwood and wowed the audience with some serious girl power.
There were noteworthy performances aside from the three winners as well.
Haley, the first act, immediately left an impression on the crowd with her incredible vocal skills. After her performance, Liam Grover of Tau Delta Phi said, "I think Haley won already!"
A few acts later, Brad tugged on the audience's heartstrings by singing "Walking in Memphis" by Marc Cohn.  Tau Delta Phi's Anthony Dignazio thought Brad stole the show, but it seemed the performer did more than just that.
"Brad stole my heart five seconds into his song," said Katie Burkawitz of Alpha Omicron Pi.
Finally, Phi Kappa Psi's Jordan Maly and Mike Levy performed a duet of "Endless Love" featuring a slideshow with pictures of their bromance to lighten the mood. It prompted some audience members, like freshman Kristin Wall, to wish for a love as strong as the one shared by the two performers.
Winner or not, every contestant who performed gave it their all and seemed to be having loads of fun while doing it.