WEST LONG BRANCH, N.J. – Starbucks, known for serving specialty coffees and Frappes, will soon be adding alcohol to their menu.
In a movement dubbed Starbucks Evenings, Starbucks will be incorporating a bar-inspired menu, including wine and beer, into their classic coffee shop fare, with service starting after four p.m. in select markets in order to boost evening sales. Aside from the addition of alcoholic beverages to their menu, Starbucks will also offer bacon-wrapped dates, truffle mac and cheese, and chocolate fondue, among other bar-inspired snacks.
In a statement issued on Starbucks' corporate website, the company states,  "The food is amazing. The wine selection is simple and smart. The chairs are just as comfortable as they are in the morning."
Although Starbucks' signature spirits will not be sold in stores for several years, the company has already seen success with their new products among their various test markets, according to the Washington Post. In 2010 Starbucks released its beer and wine selection in their flagship Seattle store and again in 2012 to 25 locations throughout Chicago, Atlanta, and Southern California and has been met with success thus far.  Starbucks Chief Operating Officer, Troy Alstead, stated, "As we bring the evening program to stores, there's a meaningful increase in sales during that time."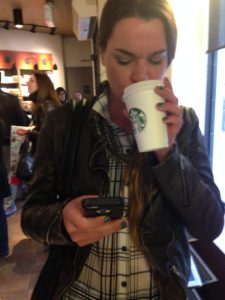 Currently Starbucks sells beer for $5 and wine by the glass ranging from $7 to $9. Their spirit selection includes Rogue Dead Guy Ale, Pinot Noir, and Prosecco, according to a Los Angeles Times article. All alcoholic beverages will be kept behind the counter in a case and the company has stated that patrons below 21 will still be allowed in all locations.
Some may find this maneuver to be a desperate attempt to boost sales after shutting the door to nearly 1,000 stores. However, in a statement issued by Starbucks' representatives, the company claims that adding spirits and savory items to their menu is a response to customer demand for a menu that provides more options for the afternoon and evening, according to QSR Magazine.
Monmouth alumna, Brittney Cottrell, who graduated in 2014 with a BFA in Graphic Design, feels positively about Starbucks Evenings and expressed her enthusiasm about the menu change. Cottrell stated, "I think its good that they're only serving wine and beer because it fits in with their relaxing atmosphere, as opposed to hard liquor and mixed drinks."
In addition to boosting sales, Starbucks is launching Starbucks Evenings in order to differentiate themselves from competitors such as Panera Bread and Dunkin' Donuts, by offering customers specialty adult beverages, according to the Los Angeles Times.
Despite Starbucks' confidence in their newest menu items, Starbucks Evenings has been met with widespread criticism.
Monmouth University Senior and Graphic Design Major, Amanda Stojanov, voiced her skepticism about Starbucks' new menu. Stojanov stated, "I think that its going to hurt the already existing environment where workers can go to work and students can go to study."
Junior Business Major, Jessica Frasca, echoed Stojanov's sentiment, stating "Personally, I think it's a good idea because with all of their competition, they need to diversify themselves. I'm just not sure alcohol is the best way to do that."
Starbucks does acknowledge that this new menu may not work for all of Starbucks' nearly 18,000 stores. Alstead has indicated that the menu has been tested most successfully in urban areas where restaurants and theaters draw nighttime crowds. Therefore, while you might not find Starbucks' signature wine in Monmouth Mall's Starbucks' location, Red Bank's Starbucks may be seeing a menu change.
Whether you plan on sampling Starbucks' selection of spirits or are staying true to their classic café menu, one thing is for sure: Starbucks' will still leave you buzzed.
Video by Caitlyn Bahrenburg.