(The Verge) – When it comes to the first week of classes, we all know that it can be a stressful time. Picking the right courses, buying books, and not to mention mentally preparing yourself for what is to come. Now for me, one thing I do not want to worry about is whether or not I will be able to find a parking spot when I am going to class. Regardless, this is always one of my main worries before walking out the door.
On the first day of classes, I gave myself ample time to get to the Plangere parking lot. I had hoped that I would find a decent spot and get to my class with time to spare. Much to my dismay, the parking lot was absolutely chaotic, as most of you may already know. Since the line for the valet parking ran through the whole lot, I decided to avoid that and search for my own spot. In reality, it most likely was not the smartest choice. After aimlessly driving around for upwards of ten minutes, I was still having no luck. I reluctantly got in line for the valet, where I anxiously sat in my car for another ten minutes. At this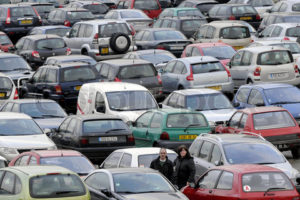 point, my class had begun five minutes ago. Suddenly, by some divine miracle, a spot opened up only feet away from where I was waiting. I pulled in the spot, and ran to my class arriving only ten minutes late for my first class of the Spring semester. Talk about a good first impression.
Thankfully, I was not the only student that had encountered this problem. And we should all be very thankful that Monmouth University has hired some very understanding professors. The parking issue at this university, is one that definitely needs some serious mending. The valet parking is a great gesture, and in some cases can be very helpful, but it obviously does not solve the problem completely. Do I personally know what could fix this problem? No. But perhaps if some students and faculty members got together and looked at the issue more closely, something could be figured out.
Finally, there is a silver lining to this dilemma. After the first few weeks of the semester, the parking lot becomes a little less crazed. So, if you are feeling as frustrated as I am, just stay calm, and remember that your parking situation should ease up soon enough. And, if you have any ideas on how to better the situation, let someone know! There is no harm in trying to make things easier for students who have a lot on their plates.