(The Verge) – The 2013 MLB season is just a week away.  Both of New York's squads have multiple questions. They both are projected to finish in the bottom halves of their respective divisions. So, is there any light at the end of the tunnel for either the Mets or Yanks? Well, maybe.
The good news for the Mets is that expectations have been low for the past several seasons. Those expectations are not too different this season, either. They traded the NL Cy Young award winner in R.A. Dickey, and let outfielder Scott Hairston sign with the Chicago Cubs as a free agent. On paper, this team looks worse than it did at the start of last season–something Met fans do not want to see when the team is going through a rebuilding process.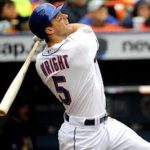 However, it isn't all bad in Queens. David Wright was locked up this past offseason with an 8 year contract extension and made the fourth captain in team history. Ike Davis, who despite having a .227 batting average last season, still managed more than 30 homers and more than 90 RBIs. Should he avoid the early season struggle that tortured him last year, the former first round draft choice should be primed for a solid season at first base. Middle infielders Ruben Tejada and Daniel Murphy are both coming off strong 2012 campaigns, but have struggled this spring. Tejada is hitting around .100, but that won't mean anything once opening day rolls around. Murphy is still rehabbing an injury, but is beginning to play in minor league games, so his return shouldn't be too far away. John Buck will handle the catching duties until top prospect Travis D'Arnaud is called up later this summer. Buck handles most pitching staffs well, and can hit with decent power. The infield could be a solid group in 2013.
And then there's the outfield, or what current GM Sandy Alderson likes to say, "What outfield?" Lucas Duda had a strong spring and will need to continue that success to be a regular in Terry Collins' lineup. He showed flashes of his potential last season, but struggled mightily in the second half, especially against left handed pitching. Finding consistency will be the key for Duda in 2013 if he wants to maintain a corner outfield position. Over in center field, a range of players will battle for game time. Newcomer Collin Cowgill has impressed the organization during spring training and may split the center field duties with Kirk Nieuwenhuis, who is looking to improve from his rookie season. Veteran Marlon Byrd has won the job for right field after a solid spring. All three of these players could split time with left handed hitting Jordanny Valdespin, who can play all three outfield positions and second base.
Then there's the pitching staff, the true strength of the club. Jon Niese will start opening day after news of Johan Santana's injury setback will likely put him on the disabled list to start the season. Niese is coming off his best pro season, and has improved every season since he first broke into the league in 2008. He will be followed by veteran Shawn Marcum, who is coming off an injury plagued season with the Brewers. If Marcum can stay healthy, history has shown he can be a good middle of the rotation starter. Matt Harvey is next, and Met fans love hearing that name. He pitched well in his first ten pro starts last season, and gave Met fans a glimpse at the future. His talent level and winners mentality could make him one of league's bright young stars. Dillon Gee will be the fourth starter, and should be healthy and ready to contribute after last season's injury. Jeremy Hefner will round out the rotation until either Santana comes back from injury, or when top pitching prospect Zach Wheeler gets his caller later this summer.
The bullpen is a bit of question mark, with young arms such as Josh Edgin and Robert Carson from the left side, and Jeruys Familia from the right. Closer Frank Francisco who was not effective last season still has not returned from injury. Bobby Parnell looks to take over that role for the time being. Free agent signing Brandon Lyon could fill a number of roles in the middle innings.
Overall, this is still a transitional year for the Mets. Their fans have seemed to accept that, and will have hope when young studs like Zack Wheeler and Travis D'Arnaud are called up later in the season. The Mets may not contend this season, but have a bright future. Final prediction: 73-89.
Now for the outlook from the Bronx. The Yankees could win 90+ games and contend, or could finish in last place. The major factor this season will be health. Center fielder and power hitting Curtis Granderson will be out until at least May, and all star first baseman Mark Texeria may not return until mid June. Additionally, the captain, Derek Jeter, may start the season on the disabled list. In a division that figures to be highly competitive, these kind of injuries may be too much to overcome.
Oh, and did I mention third baseman Alex Rodriguez could miss the entire first half of the season because of hip surgery? Free agent signing Kevin Youkilis will be pressured to fill the void. The only healthy star on this team is second baseman Robinson Cano. He is in the last year of his contract and could do one of two things. He either has a monster year and gets the contract he wants, or he feels the contract issues looming over his head and struggles. Cano is probably too good to let this happen, but in a season where luck already hasn't been with the Yankees, you never know.


As for the players who will be laying on opening day, there are some bright spots. Brett Gardner is healthy and should bring speed to the top of the lineup. He and right fielder, Ichiro, should make for a nice 1-2 punch at the top of the lineup. Eduardo Nunez may start at shortstop if Jeter can't go, and Yankee fans would obviously not be overjoyed with that. Juan Rivera will start at first for the injured Texeria. He is a solid player, but will not produce like Texeria can. Francisco Cervelli will start at catcher. He is solid defensively, but doesn't figure to hit much. This lineup will need its injured players back to consistently put up runs. Free agent signing Travis Hafner will also need to provide power in the DH role.
The rotation also has several question marks. C.C. Sabathia is the ace, but is also coming off offseason surgery. However, a healthy C.C. is what you want as your top starter. Hiroki Kuroda had an outstanding season last year, posting a 3.32 era and winning 16 games. But at the age of 38, that success will be difficult to duplicate. Andy Pettite pitched well last season, but was plagued by injuries. At the age of 41, who knows what kind of season Petitte will have. Ivan Nova has the talent to pitch in this league, but will have to master it after posting a 5.02 era last season. He is still fairly young (26), but will need to pitch well for the Yanks to contend. Phil Hughes hasn't lived up to his promise as a young starter (4.23 era last season) but is still making strides towards success. He won 16 games last season, but will need to be more consistent for the Yanks rotation to thrive. The Yankees are also hoping the talented Michael Pineda returns from injury (go figure) by mid season.
The bullpen also has question marks. Closer Mariano Rivera is coming off an ACL injury that ended his 2012 campaign. However, even at the age of 43, Mo can still be successful. He is the greatest closer in the game's history, and there is every reason he can return to good form. Losing Rafael Soriano to free agency will hurt, but guys like David Robertson, David Aardsma, and Boone Logan are capable middle inning relief pitchers who can get outs. The 'pen should be solid for the Yanks in '13.
It is really difficult to project where the Bronx Bombers will finish, but you have to figure these injuries might just be too much to overcome in one of the deepest divisions in baseball. Final projection: 84-78.