WEST LONG BRANCH, N.J. – December 25th is the day of giving, and the NBA truly gave its fans a treat this year. The holiday started off with the Knicks hosting the Celtics in New York City at Madison Square Garden. The game was tight all the way to the fourth quarter.
The Celtics were making shots that they would not normally attempt, but they decided to take risks throughout the game in hopes of getting a big reward. They allowed the Knicks to get back into the game they were falling behind in, with less then 2 minutes left of play. The Celtics fouled Kristaps Porzingis on a fast break, and gave the Knicks a chance at an extra point that Porzingis sank. But Porzingis' big performance was not enough, as the Celtics bench outscored the Knicks bench 41-17. The final score came out to 119-114, Celtics with the win.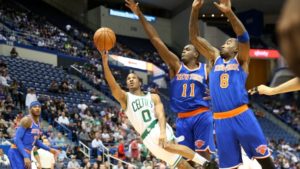 There has been talk among ESPN sources about Carmelo Anthony possibly taking fewer shots and giving them to the Knicks' young and exciting new star, Porzingis. An article from SBNation explains, "There's a very strong case that Porzingis is the Knicks' best player. But to be the best player and the focal point of the offense, he needs Anthony to let him do that. Anthony can still take and make plenty of shots, but as we saw from New York's late surge that almost got them a win anyway, perhaps Anthony taking 50 percent more shots than Porzingis (24 to 16) isn't the right ratio."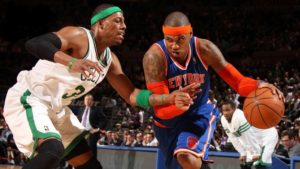 The Knicks are making a name for themselves this season, as their record is 16-14. But that means nothing unless they can beat the top competition in the league. The Christmas day game could have been extremely significant if they could have stopped the powerful Celtics, who started off the season a little bumpy but now have their game play down-pact. The Knicks' next game will be against the Atlanta Hawks on December 28, 2016. They will be entering the new home of Dwight Howard, and it should be a great test for the upcoming Porzingis and the team as a whole. Knicks fans should be excited for their new team, as the Knicks continue to do well even though they seem to not have things completely together yet. It is still early in the season, so there is definitely time for the Knicks to devise a better plan and come out on top this season.