WEST LONG BRANCH, N.J.–In the last two weeks, three Monmouth Hawk teams earned berths into the Metro Atlantic Athletic Conference Championships. The men's soccer, women's soccer, and field hockey teams all earned the top seed and won the Regular Season Title. Not many schools have more than three teams enter a conference tournament as top seeds, but the Monmouth Hawks took the cake.
Back in 2013, the women's soccer team won the MAAC Championship, not allowing one goal throughout the three games. Last year, however, the women's soccer team came up short in their championship run. With heavy hearts, they are determined to win the Championship again. The Hawks only have one loss in the MAAC schedule and have landed the top seed in the tournament.
"We didn't leave it out all on the field last year," said senior starter Colleen Howard. "This year we feel very confident going into the game on Friday."
This intensity will hopefully lead the Hawks to the well-deserved championship they have been wanting to win back all this time.
The women have four forwards that have amounted to 88 points of their total scoring this season. Notching just one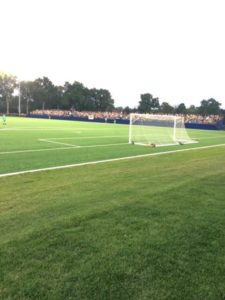 loss on their MAAC scheduled play, they have a solid chance heading into the MAAC tournament to secure another NCAA appearance.
"Practices have been high intensity, team oriented, and focusing on the task at hand," said Howard.
The Hawks face Siena in their first round on Hesse Field in West Long Branch, a home match that they look forward to.
Men's soccer mirrored the women's team. On top of that, they are currently nationally ranked at No. 22, according to
College Soccer News. And the accolades do not stop there! As the Hawks head into the MAAC Conference
Championships in Lake Buena Vista, Florida, they have a Division 1 record high of 15 unbeaten games in a season.
Looking back on the previous season, the men's soccer team won the MAAC Championship in a gut-wrenching final against Fairfield that went into double overtime and ended with a victory for the Hawks. Once they won their rings, they headed into NCAA play in another exhilarating double overtime game, but came up short of a NCAA second round berth.
Still, with a top-seeded position, the Hawks have a good shot at winning their second-straight MAAC Championship.
"Going fifteen games unbeaten is a triumph in itself," explained starting goaltender Eric Klenofsky."Every team we play is going to be gunning for our necks trying to break that streak. That makes the conference tournament that much harder. That being said, we are prepared and excited to give this tournament our best."
Defending MAAC Field Hockey Champions, the Hawks head into MAAC play with a 5-1 MAAC record. Just as the women's soccer tournament will be held in West Long Branch, so too will the field hockey be held on So Sweet A Cat Field. Last year, the field hockey team defeated in-state rival Rider with a complete blowout 6-1 win. With leaders like Cori Allen and Meg Donahue on the offense and Lauren Horner and Casey Hanna on the other end, the Hawks have a strong shot at a second straight MAAC Championship.
All three teams begin their MAAC tournament debut on Friday, Nov. 6. All MAAC games can be seen on ESPN3 and aired for all three competing teams.