(The Verge) – The current audience studies course at Monmouth University is about to become a permanent one, and a new focus on the topic is in the works within the Communication Department. At the moment, the concentration for the course is hip hop culture. In order to become a permanent one, a section must be taught for three semesters. Hip Hop Audience is currently in its second semester and on the road to permanence. If this course becomes a mainstay, Communication Professor, Aaron Furgason, hopes to have Electric Dance Music (EDM) also become part of the Audience Studies focus groups.
Hip Hop Audience is the first relevant course that has been offered at MU. It is considered a communication course and conveniently enough, is not a pre-requisite for any other courses. The class is used to take a deeper look into how the hip hop culture has influenced audiences, and how audiences perceive it. The course is also used to show students how they interact with, and are involved in the mainstream focus. Professor Furgason hopes that EDM will be as successful as the hip hop focus has been.
During an interview with Furgason, he went into detail about his feelings towards the hip hop course, and his hopes for the future of audience studies. Professor Furgason has been teaching Hip Hop Audience for two semesters and he said, "This semester, the first section filled up as well as the second. That is a good sign."
Students seem to have interest in the course, making the spring semester in 2014 the final semester before the course gets officially 'picked up' and approved as a credited class.
When asked why he believed hip hop was an effective medium to teach audience studies, Professor Furgason said, "I took an audience studies class in grad school that centered around classical music, and it may have been the second most boring class I have ever taken." He went on to express how he believed audience studies were important for any student who was pursing an education and career in communication. He also said, "I was thinking of a way to present audience studies so that the students would appreciate it more and retain the information better."  He believes that hip hop is a good way to teach students about how crucial the audience response can be in education.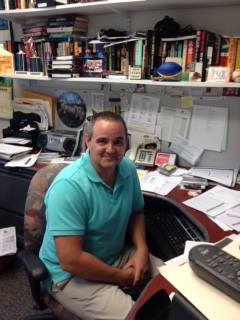 In general, Furgason believes that music is the best way to teach this subject. He considered doing heavy metal as a focus and also punk rock. In the end, he believed hip hop would be the most relatable for his students. He hopes that once the course becomes permanent, additional professors in the communication department will be able to teach it according to what they believe.
Furgason hopes to have EDM be his next venture for a possible audience studies course. His only worry is the ever changing audience. "In 5 years electric dance music may not even be relevant to the lives of Monmouth University students."
Senior, Taylor Copp is a communication major with a focus in public relations and journalism at Monmouth University. He also is a Contributing Writer for The Outlook, and host of a hip hop show on WMCX. This past semester, he registered for Furgason's hip hop audience course. He chose the class as an elective and is enjoying it thus far. When asked why he chose to take the course he said, "I am actually a big fan of Professor Furgason. He has this teaching method that draws me in, and keeps me there. I never get bored in his class and his use of film and audio really helps to emphasize what he teaches." Taylor believes that it is amazing that hip hop can teach the class so many things about audience studies. "Hip hop really resonates with us, and if you can connect with the content the professor is presenting, it makes the material easier to learn and keeps the class energized," said Copp.
So far, Copp is thoroughly enjoying the course and seems to be learning a lot! He said that he would recommend it, as well as the possible EDM course, to his peers, because Professor Furgason ties in other genres of music as well. He said that Furgason makes it enjoyable and educational for any type of student.
Hip Hop Audience was popular this semester with the sections filling up almost immediately. The students, as well as Professor Furgason, find the course to be extremely effective. After next semester, the class will become permanent and more sections will open up so more students can register. And if hip hop isn't your style, an EDM class is on the way.
So find it within to salvage your inner musician, and keep listening to different genres. Then, give the Comm. class a shot and register, today!