WEST LONG BRANCH, NJ– In a world filled with over seven billion people, it can sometimes feel impossible to have your individual voice heard.  However, in today's web and media driven society, it is actually easier than ever.  Blogging has offered people a fast, easy, and accessible way of sharing their opinions and having their voice heard, and many Monmouth students are taking advantage of this popular medium.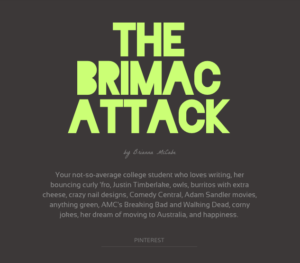 "I created two separate blogs to cater to two totally separate audiences" said senior Brianna McCabe.  McCabe has two blogs; a visual, somewhat goofy, and entertaining blog called The BriMac Attack, and a serious blog devoted to personal experiences.  "One of my favorite blog posts on my [blog] is '18 Reasons Why I'm Single', which, in my opinion, is one of my greatest comedic posts," said McCabe.  The BriMac Attack is driven by the entertainment aspect such as movie, shows and concert reviews.
"I was inspired by my passion of writing and communicating all while spreading humor, happiness, and insight" said McCabe. "I hope to offer a new, fresh perspective to the world of blogging".
The beauty of blogging lies in the seemingly limitless nature of the blogosphere.  From humor, to fashion, to personal experiences, if you can think of it, there is probably a blog about it. Senior and blogger Kyle McKenna author of The Little Thing5, which focuses on McKenna's personal experiences and views.
"I had 3 close friends of mine pass away in the span of six months, going on two years ago" said McKenna. McKenna took this personal tragedy and channeled it into his blog, creating a unique forum through which he can share his experiences and inspire others.  "I simply love to write…or blog" said McKenna. "It's a stress release."
His blog, The Little Thing5, purposely changes the "s" in things to the number 5 to represent his hockey coach, Derek, and the jersey number he always wore.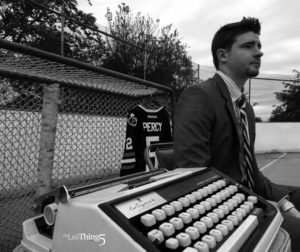 "He always preached to me to "take care of the little things" on the ice, and in every day life with anything" says McKenna. Mckenna's blog covers all aspects of life whether it's from his personal experiences, excerpts from this book he is working on, or his views on public affairs.
It takes a lot of courage to put yourself out there, let alone to the more than 7 billion people  in the world. Yet, its the satisfaction of doing something you love, and having your voice heard in a world where it seems impossible to make a difference that makes the "post" button less frightening. Whether it is to entertain or inspire, Monmouth University students have found a way to be heard.
To read more from McKenna and McCabe, check out their blogs, The Little Thing5 and The BriMac Attack.