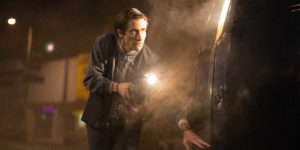 WEST LONG BRANCH, NJ– The city of Los Angeles shines brightly at night as the buildings illuminate the sky and create a beautiful atmosphere even as the sun disappears. However, what lurks in the shadows in the deepest corners of the city creates speculation as to how 'beautiful' Los Angeles really is. The spectacles of crime and violence that occur around the dark corners of deserted streets seem far from appealing. However, Lou Bloom, the unemployed protagonist, has a personality that suits such a setting. In the current state of the economy, obtaining and maintaining careers and jobs come as a struggle, but with hard work and dedication, Lou believes that anything is attainable. His motto is, "If you want to win the lottery, you have to make the money to buy a ticket." But how far will Lou go to achieve his goal of obtaining a spot as a freelance crime journalist?
Nightcrawler, directed by Dan Gilroy, describes the  journey of the persistent Lou Bloom (Jake Gyllenhaal) as he strives to acquire a position as a video journalist at a local TV station.  Night crawlers, as they are called, are individuals who arrive at the scene of a crime, accident, or disaster and obtain video footage of the event which they then sell to television stations for a profit. In other words, the better the footage, the more money the night crawler gets. It is easy to see where competition plays a role in this occupation and Lou is absolutely aware of it. While driving home, Lou witnesses a car accident and questions a man with a video camera about what he does. After receiving the explanation and combined with his desire to finally become employed, Lou decides that this is a career prospect that he is extremely interested in.
[slideshow_deploy id='8501′]
As Lou Bloom, Jake Gyllenhaal, as recently seen in films such as Prisoners and Enemy, continues his streak of dark thrillers, but this time playing a character that steps outside his usual portrayal of 'the good guy' into a more mysterious and unstable character. If one were to comment that Gyllenhaal's acting in the film was great, this would be an understatement. Gyllenhaal elicited an emotional response from his audience, leaving them feeling uncomfortable and disturbed.   The way he speaks and gets his demanding points across in such a matter-of-fact way combined with the glaring look he often gives the other characters, is something one must see to believe. Gyllenhaal, having lost twenty pounds for the role, was able to capture the inner hunger for success in Lou by reflecting it into his exterior appearance, which could not have been achieved if he had not prepped in this way for the film.  To define Lou's character in a couple words is almost impossible as his complexity and instability becomes evident throughout the course of the film.
With the release of a number of successful movies in this week's box office, Nightcrawler remains deserving of one of the top spots. Being called things such as "a full-on masterpiece," "deliciously twisted," and "one of the year's best films" by movie websites including Joblo, The Rolling Stones, and Twitch Film, Nightcrawler does not disappoint any thriller movie fan. The aspect that makes films today engaging relies on its originality factor and this film has one of the most unique and creative plotlines to ever hit the big screen in decades. It is not afraid to show the more graphic side of crime through Lou's eyes as the film is set to get the audience to feel like they are Lou, filming and engaging in these dangerous and disturbing acts alongside him. Just when you think Lou can't get any more desperate to reach his goals, he surprises the audience with every passing scene.
The filming and production of the film was spot on, which was pleasantly surprising considering this film was Gilroy's directorial debut. He succeeded in creating an incredible experience at the movies; the combination of the shady and cryptic mood of the film, the music, and the film techniques creates for a twisted yet extremely engaging film. Once in a while a film comes out that causes the audience to keep thinking about it days after viewing, and Nightcrawler is without a doubt on of these films.
Nightcrawler gets everything right that one could expect from a film. Impeccable acting, suspense, drama, and just enough crazy antics is what makes this film worth viewing for the time it remains in theaters. If you are going to the movie theater this weekend and are still deciding what to see, Nightcrawler will definitely blow you away. You will never look at television news footage of accidents and crime the same again, keeping in mind the thought of the way the footage was obtained. There very well may be some "Lou's" in the industry of film journalism. Next time you view footage on television, keep in mind that the process it went through to be obtained might be more of a story in itself than we may think.