WEST LONG BRANCH, NJ – Monmouth University announced their affiliate partnership with the GRAMMY Museum to benefit students, courtesy of Bob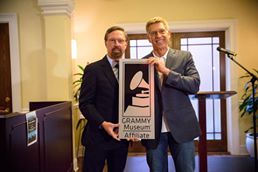 Santelli, GRAMMY Museum Director and Monmouth Alumnus.
A launch event was held in Lauren K. Woods Theatre to celebrate the affiliation at 2:30 on October 10. "It was very nice," said Music Industry major, Samantha Bastone. "A couple student bands got to play and it was great just to have most of the music department in attendance for the launch."
Along with the student bands performing at the launch, Santelli spoke at the event along with President Paul R. Brown. Bruce Springsteen's Special Collection of archives was on display for people to look at.
"We are thrilled Bob brought us this opportunity," Joe Rapolla, Chair of the Music and Theatre Arts Department said. The new partnership is expected to open doors for the students like internships, research programs, employment and easy access to talent for events and production.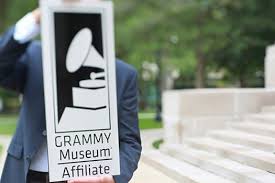 Bastone said that she believes the affiliation will benefit her because it will open more possibilities for internships. "Internships are always hard to find. Now we have our foot in many doors that we would not have had before the affiliation."
Monmouth University is one of four Universities that are affiliated with the GRAMMY Museum. The other schools that are affiliates are the University of Southern California, Oregon State University and Delta State University. This makes Monmouth the only East Coast University affiliated with the GRAMMY Museum.
The Dean of the University's McMurray School of Humanities and Social Sciences, Stanton Green, said that he is extremely proud to be an affiliate of the GRAMMY Museum. He also said that these resources would help grow the Center for the Arts here at Monmouth for years to come. "[The GRAMMY Museum] supports its mission of connecting students to the arts through curricular initiatives, faculty and student scholarship, creative endeavors and career mentorship programs," said Dean Green.


"The program fits perfectly into our updated Music and Entertainment Industry program," Rapolla said. The Music and Entertainment Industry program was updated in the 2013-2014 school year to provide students with many real world and hands-on components to complement the academic offerings Monmouth provides.
Some changes were made to the curriculum and mandatory classes for students. "They (classes) are focusing more on the industry itself, instead of general music," Bastone said. "In my opinion, this is good because it will help students learn more about the business side of the industry which will be very beneficial to all of us (Music Industry majors)."
Another thing that is changing is Blue Hawk Records. "Blue Hawk Records continues to grow and receive more recognition which is great for the whole University," Bastone said.
According to the GRAMMY Museum website, affiliates "have access to GRAMMY Museum exhibitions, educational initiatives, research programs, internship opportunities, collaborative marketing and promotions, technical support for interactive displays and much more." Monmouth students have their foot in the door with companies in the field of recording, sports presenters and engineers. Some of these companies are the Latin Recording Academy, AEG, and the Recording Academy.
"I think it is awesome that Monmouth received this affiliation because it is definitely a great connection for the University," Bastone said.