(The Verge) – 2012 was a great year for new artists. There were many artists who received their first glimpse of fame and are working towards success in 2013. While some bands are coming back onto the scene after a long hiatus, many bands are starting from scratch.
One of the biggest comebacks of 2012 was Soundgarden. Their new album, King Animal, came out this past October, and is the first release for the band since 1997. The album contains many good songs, such as "Been Away Too Long". While they do keep some of their old sound, Chris Cornell is able to blend some of his work from bands like Audioslave and apply it to this album. More stuff from Soundgarden will definitely be heard in 2013.
"Been Away Too Long" – Soundgarden
There are many bands that are predicted to become famous in the future. Mike Palardy, Music Director for WMCX 88.9 FM, is responsible to provide new music for the station to get for download.  The Alabama Shakes are a band that Palardy thinks will be big in 2013. He says that "they have a great combo of modern sounds and retro rock, with a country blues sounding guitar…they have the best of the old and new."

Another band that could become mainstream in 2013 is a group out of Iceland called "Of Monsters and Men."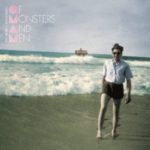 Their newest album, My Head Is An Animal, is still #5 on the ITunes alternative charts, even though it was released back in March. The songs on this album vary with more energetic songs like "Little Talks" and "Mountain Sound", followed by soothing slow songs such as "Sloom" and "Love, Love, Love".
In an interview from Rolling Stone magazine, Of Monsters and Men said that their next album will be written in a different way since they are now a more well-known band.
One of the biggest bands of 2013 will be Imagine Dragons. Based out of Las Vegas,Nev., this group had some success with their hit song "It's Time." This song got immensely popular during the last part of this year, and their new single "Radioactive" is also on the alternative charts.

The next band is a new indie band out of Brooklyn called Grizzly Bear. According to their website, their new album, Shields, has been named Album of The Year by iTunes. The band did an interesting interview with NPR in September in how hard it is to narrow down new artists.
2013 may be one of the most exciting years for new music. With groups such as Soundgarden reuniting and new groups such as Grizzly Bear emerging, we will be seeing many new artists working hard to become known as one of the best artists of 2013.