(The Verge) – At the age of 37, with his body insured for $195 million and raking in $37 million from various endorsements for companies such as H&M, Burger King, and Adidas, David Beckham has decided to graciously donate his entire salary to a yet-to-be-named children's charity in Paris after signing with Paris Saint-German of Ligue 1 on January 31, 2013. His estimated monthly salary amounts to $1 million. With his five month contract, the charity will receive $5 million total. Unfortunately, French officials are beginning to question his motive, deeming his act less altruistic than it appears.
While Beckham plays out his five month contract, his family will remain in London so that he may remain a citizen of the United Kingdom. Beckham will reside in Hotel Le Bristol in France. If he retreats to London for at least 183 days out of the year, then he will remain taxed as an Englishman instead of Frenchman. Following this decision, the French paper, Le Parisien, broke down the logistics and affects on the French government. By remaining in France for such a short time and donating his salary, Beckham will now be taxed 5.5% on his union minimum of $3,000 in comparison to the 45% rate that would apply to his $1 million monthly salary. His union minimum wage is the amount he must receive from the club due to French law. He also will be avoiding a 20% social security tax, a surtax on annual income above $679,200 and avoid being forced to claim France as a permanent residence, which would result in a 75% tax on all of his earnings above $1.36 million. Ultimately, the French government will be cut out of an estimated total of $3.4 million. But this 75% tax is a new phenomenon, employed by socialist President Francois Hollande. His plan is to use the extra taxes to bring France out of line with the European debt crisis. What he doesn't understand is that the handful of people making over $1.3 million are not going to be happy about giving even more tax dollars to the government. As stated by Diane Segalen, corporate official, in a New York Times interview, "When you tax away two-thirds of someone's earnings to appeal to voters, productive people who can enrich businesses and the economy won't come — or they will just leave." French millionaire celebrity, Gerard Depardieu, who has starred in over 180 films, has already renounced his French citizenship and fled to Belgium. So perhaps the government is just mad at Beckham for outsmarting the new tax law while remaining in France.
Maybe the phrase "Bend it like Beckham" does have two meanings – pertaining to soccer on the surface and bending the tax laws on another level. But the second meaning is definitely debatable. During his signing press conference, Beckham stated, "It has never been about the biggest contract or the money. It's always been about playing football. I've been lucky to achieve what I've achieved and earned what I've earned." This admission, along with the fact that Beckham's salary will go straight from the club to the charity without even going through his hands, proves that his ultimate intentions are to distribute his earnings to a good cause. Also, keep in mind that he stated during his press conference, "I might have only signed the contract until end of season, but I consider to see myself part of the club in the future. I want to help the French league to grow and help this club become one of the biggest powerhouses in football." He repeated this in a Sports Illustrated interview, detailing that he was given many offers from various teams, but he chose Paris Saint-German because he enjoys the city and wants to help it flourish. Another factor he mentioned in choosing Paris Saint-German is that they are very passionate about children and charity as well, proving that his notion to donate his salary was premeditated and not just to avoid the steep tax rates of France. So in regards to the French officials critiquing his decision to stay in Hotel Le Bristol for these first five months, consider it with his situation in mind. He is now the oldest player in the league at 37 years old and has four children. Perhaps he is unsure of how much longer he will be able to play (he's already acknowledged that he probably won't be in the teams starting lineup), so why uproot his children from their schools, friends, neighborhoods, etc.?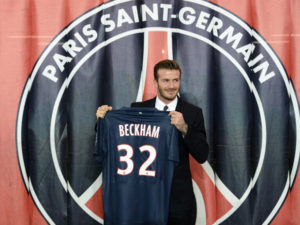 Granted, this is not the first time that Beckham has avoided paying taxes, so it is understandable why the French might feel slighted. When he joined Real Madrid in 2003, he avoided the standard escalating income tax of 43%. This was due to the "Beckham Law", which granted wealthy expatriates the right to a flat tax rate of 24% on their salaries earned within Spain. However, Beckham is not the only professional athlete to try and minimize his taxes. Fearing higher tax rates for 2013, baseball free agents have asked for a large sum of their contracts to be paid as signing bonuses, lowering their actual salaries. Similarly, since the NBA season is split between 2012 and 2013, players have requested their teams to pay more of their salary in 2012.
Then there are players like Ibrahimovic Zlatan, striker for Paris Saint-German. He does not try to short change the government and decrease his tax payments, but he has no intention of sharing his earnings with the less fortunate either. After hearing about his new teammates philanthropy, Zlatan commented,
"I heard Beckham's decision and it made me think, who is most deserving of all of the money that I, Zlatan, am paid? The answer is Zlatan. The children of Paris are not leading Ligue 1 in goals this season. I am. I have 20 goals. The next best players have twelve. Twelve! If anything, the children of Paris should be giving me even more money for having the privilege of being in the same city as my incredible quality. And so should David Beckham. Call it a Zlaritable donation."
So which player's plan is more respectful? Zlatan, who is hastily taking his entire salary, but without any scheming to reduce his taxes? The MLB and NBA players who try to cut their taxes while still getting paid extremely high amounts? Or the man who is using his salary to help the greater good? Let alone the fact that he has already proved his humane nature by serving as a UNICEF ambassador since 1999, supporting the reduction of childhood issues such as malnutrition, domestic abuse and trafficking, and operating a charity to provide wheelchairs to disabled children. According to Broke, an ESPN documentary "By the time they have been retired for two years, 78 percent of former NFL players have gone bankrupt or are under financial stress; within five years of retirement, an estimated 60 percent of former NBA players are broke." Therefore, players like Zlatan who are currently trying to salvage their salary solely for self-use have an extremely high chance of becoming poor within a few years of retirement. So wouldn't the French officials rather support an athlete that is giving his money away to a good cause right upfront? Zlatan was also quoted saying, "When I signed with PSG the politicians called my wages 'indecent' in a time when so many people are struggling, even though it is a lot of money that can be taxed and help the country…Now Beckham gives all of his wages to a local charity and people call him a tax dodger. Both are examples of stupid people complaining about good things. It is a waste of breath." Evidently, there is no pleasing the French officials.