WEST LONG BRANCH, N.J.–Monmouth University Vice President Mary Anne Nagy sent an email Wednesday morning announcing that an off-campus student became infected with bacterial meningitis. According to the Centers for Disease Control and Prevention, bacterial meningitis is usually severe and occurs when membranes around the brain and spinal cord become inflamed.
"At the present time the causative agent is unknown," said Nagy in the email. "While this news can be upsetting, we can assure you that Monmouth University is working very closely with state and county public health officials to identify any concern to the campus community."
Nagy also assured email recipients that the campus community will be updated on the situation as it unfolds.
Monmouth University requires residential students under 30 to receive a meningococcal meningitis vaccine, which fights against the most common germs that cause the inflammation. However, for other students and employees, the vaccination is simply recommended.
According to the health requirements listed on the university's website, only students living on campus or in campus-sponsored housing are required to get the meningitis vaccine within five years of admission. This means that the approximately 4,000 commuter students–more than half of the entire enrolled student population–may or may not have gotten the shots.
Both resident and commuter students have shown concern about the news that Nagy broke.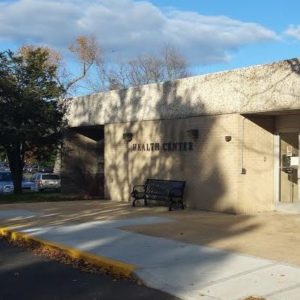 "I think everyone should get meningitis shots regardless of living on or off campus," said James Romano, senior journalism major. "We all live in close quarters in apartments or living in an off campus house with multiple kids."
Romano also thinks that people should talk with their physicians to decided whether or not they should get the shot or other preventives.
"I think the health policy should be changed in order to protect everyone," said Alexis Simoes, senior political science major. "I'm a commuter student, but I am at school every weekday. I come in contact with so many people at school, as do other students, and this is not something that should be overlooked."
The Meningitis Research Foundation asserts that about one in ten people unknowingly has the bacteria that causes meningitis lingering in his or her nose and throat.
According to the CDC, bacterial meningitis symptoms can develop quickly or over the course of a few days, commonly within three to seven days after prolonged exposure. Sneezing, coughing, kissing, sharing drinks, and other forms of close contact with infected individuals puts others at risk for the inflammation, but being in a room with someone who has the illness is not considered close contact.
Symptoms include fever, headache, stiff neck, nausea, vomiting, sensitivity to light, and confusion. Subsequent symptoms can be very severe and include anything from seizures to comas.
Luckily, Vice President Nagy recommended a few prevention methods, including washing hands frequently, covering your mouth while coughing or sneezing, and not sharing drinks.
Any students or employees who have questions, concerns, or think they might have contracted or come into contact with meningitis is encouraged to contact Monmouth University Health Services at 732-571-3464.