The Residential Quad was packed on the evening of Friday, April 13 as students gathered to watch an energetic performance by Max Schneider, better known as MAX. The event was free to students and organized by the Student Activities Board (SAB).  
MAX is a singer, songwriter, dancer, and actor who has just returned from the European leg of Fall Out Boy's Mania Tour, where he was the opening act. He is best known for his single "Lights Down Low," which he told the crowd was written for his wife. 
During his high-energy performance, MAX made sure to interact with the crowd. He jumped off the stage and danced with students multiple times and was aided by his DJ, who played guitar, hyped the crowd, and danced with MAX throughout the hour-long set. The performance included both original songs and covers of favorites, all of which kept the crowd moving and excited.  
MAX knew how to get the crowd going by having the audience sing and dance along to his numbers. A talented singer and dancer, he would hit all his falsetto notes while still doing complicated choreography on stage.  
Many students turned out for the event, packing the quad; others chose to watch from their dorm room windows.  
While some students had been to a MAX concert before, many had never seen him perform, or didn't know his songs. Sophomore Allison Astudillo enjoyed her time at the concert even though she only knew "Lights Down Low" before attending. She said that she was able to get a picture with the pop star, and is now a fan and will listen to more of his music.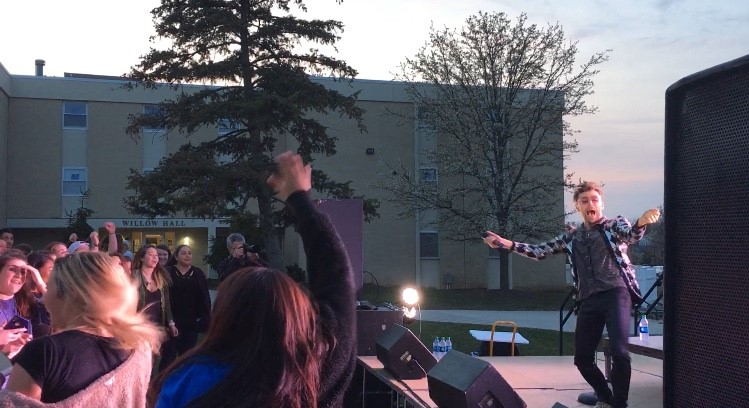 After his performance, people were smiling and laughing, as well as sharing the best photos they had taken. The energy of the crowd was still very high, and the quad was filled with people gushing over MAX.
"I thought he was fantastic!" Said junior student Brittany Fitzpatrick. "I only knew 'Lights Down Low' but then he just killed the game."  
 MAX's dressing room was in the Willow Hall basement; after the concert, students gathered to try to meet him. The doors were blocked by the crowd, which was eventually dispersed by SAB members, who said that joining SAB could lead to an opportunity to meet artists that come to campus in the future.  
In the days leading up to the event, SAB built suspense by posting clues and having students guess who would be performing. Some clues included that he was named a Z100 Artist of the Month, and that he was part of Pepsi's Sound Drop Artists.  
"I freaked out! I posted on social media [when I found out he would be performing]," said junior student Ryan Karpovich.  
Featured image taken by Cristina Espinosa