PHILADELPHIA, PA. –  Last night I went to a new French restaurant in Philadelphia that was out of this world (not literally, of course). The Good King Tavern is the name and it is simply a wonderful experience from the moment you pull up.
The new establishment is located on Seventh and Kater in a small, very Parisian-looking corner café.  When you walk in, the bar is to your left and the whole restaurant is dimly lit. Most of the light is coming from the candles in different sorts of glass holders. The tables are rustic wood and very smooth, with minimal table settings on them; glass, a plate, a fork and knife, a napkin, and one candle.  For most people, ambiance and service are just as important as the food itself; The Good King Tavern was awesome in both respects!
Our table was towards the back, right next to the huge chalkboard on the wall naming some of the specials for that evening. One was a $15 artisan cheese plate and a $15 meat tray. They came out on individual small cutting boards and were decorated so wonderfully with different breads. On the chalkboard, was also a list of wine specials for the night as well as multiple entrée and appetizer choices.  The first thing we ordered was obviously a drink (since we had heard good things). I ordered something called an Aviation. It was mixed with gin, lemon, maraschino liqueur, and crème de violette.  It was tart and delicious and extremely refreshing. The drinks were more expensive than the appetizers, but well worth it for the price you pay for the quality of food you are getting.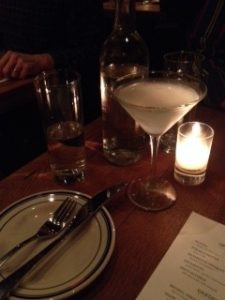 As families often do, we decided to get three appetizers for the table and share. We agreed upon the escargot, the mushroom croquettes, and the Brussels sprouts. The first bite of the mushroom croquette was the lightest, most flavorful bite I had ever taken, of anything. It was served with pickled mushrooms in a very, very light sauce. The escargot was in a light sauce with basil breadcrumbs, and garlic. They were a little tough but still lovely and for 8 dollars, you can't beat it. Finally, the Brussels sprouts. They were served extra crispy with a chevre cheese smothering them, along with hazelnuts and a basil pommade. The appetizers were portioned perfectly as well as beautifully.
After another drink, and a nice digestion period, the entrees were on their way out of the kitchen. (once again, presented and portioned amazingly). I had the duck confit which is a delicious comfort food. It was severed with an ultra-thin crispy skin that had so much flavor,  it hastily woke up my taste buds. It was served with a frisee  salad with just a light, tasteful vinegrette, and the most delicious crispy fingerling potatoes.
The duck practically melted in your mouth it was so tender and the salad was paired phenomenally with it. All of the gourmet deliciousness was only $15; an unbelievable price for this quality. My grandparents got an item of the chalkboard; the lamb shank for two. This was served with cauliflower puree, cous cous, and crispy escarole. I wasn't letting my grandparents get away without giving me a bite (or five).
The cauliflower, cous cous and escarole topping blended together in such a way that you literally could not stop eating it. And the lamb was cooked to perfection once again falling off at the bone and crispy at the same time. Often times after an appetizer, a few drinks, and an entrée, you are stuffed and only get dessert because you don't want to miss out. After my meal at The Good King, I was comfortably full and extremely satisfied, although I had still some room to enjoy a few wonderful desserts.
By the time the desserts got to our table, there was not a single moment wasted. We ordered a chocolate pot de crème which is a French chocolate pudding that words cannot even describe, and an apple tart within homemade lavender ice-cream. My grandfather said, "Any idiot can make the filling, it's all about the crust." As he cut his fork through the crust and brought it to his mouth, he barely had it there for a second before I could see on his face how delicious and perfect it was.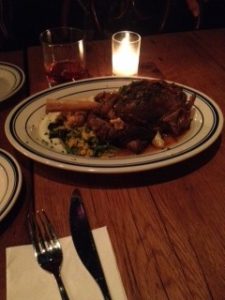 A restaurant such as this deserves to be recognized, even if it is just from a passerby. Our wonderful server, Patrick, was very knowledgeable and seemed to have good taste in food. He informed us that the restaurant had just reached its fifth week of operation. If not for the alcoholic beverages (which in my opinion are a necessity at a place like this), the three of us would have eaten that quality meal for 100 dollars.
Good eats is good eats, and I don't discriminate against higher priced food, but when the price is like this, it is hard to not eat there every night. I suggest that if you are in the Philadelphia area any time soon, you get a reservation quickly because soon enough, the booking will be full!