WEST LONG BRANCH, NJ- Ed Wood was a filmmaker of extravagant sci-fi/horror films during the 1950s. He was in love with movies, and he was in love with his movies. In fact, he loved his own movies so much that he couldn't see past the faults of the films he made. The film Ed Wood by Tim Burton is about an enthusiast, an oddball, and a craftsman, perhaps the worst that the film industry had to offer.
The film follows Wood through his career which spawned three films: Glen or Glenda, Bride of the Monster, and Plan 9 From Outer Space. There were more, but the film doesn't touch upon that. What it does touch upon is his love for the moving image, his motley crew of equally oddball friends, his affinity for cross dressing and his financial problems when it came to making his films; it is in these scenes where so many of the film's funniest situations and most memorable lines come from.




Perhaps the loveliest aspect of this film lies in its treatment of the subject and his life. It oozes with an almost Capra-esque positiveness that isn't found in Burton's three early films, Beetlejuice, Batman, and Edward Scissorhands. For the winner of the Golden Turkey Award for the 'Worst Director of All Time', the film pays tribute to Ed Wood and loves him, and is also in love with the schlock exploitation films that his era produced.
The film stars Johnny Depp in the title role, with a supporting cast of Bill Murray, Sarah Jessica Parker and above all, Martin Landau, who plays Bela Lugosi, the first Dracula. It is Wood's relationship with Lugosi that is the most touching and most remarkable. Lugosi, who is old and addicted to morphine, finds in Wood a true friend, one who loves him and respects him. One of the best scenes in the film plays to Lugosi's disgust with being compared to Boris Karloff, who played Hollywood's first Frankenstein. Lugosi explodes on the set, and Wood comes over to calm him. Despite not encountering a situation such as that prior, Wood knows exactly what to do, and the scene is a masterpiece of subtlety in terms of convincing portrayals and underlying development of the emotions and relationship between the two.
Burton, for all the Johnny Depp/Helena Bonham Carter/Danny Elfman jokes, is such an iconic, distinctive director, that his work can be identified by a single frame. There's such an eye catching attention to detail and a wonderful mesh of old horror style lighting and overblown set design, you can tell that they're his films and no one else's; he has an unmistakable style.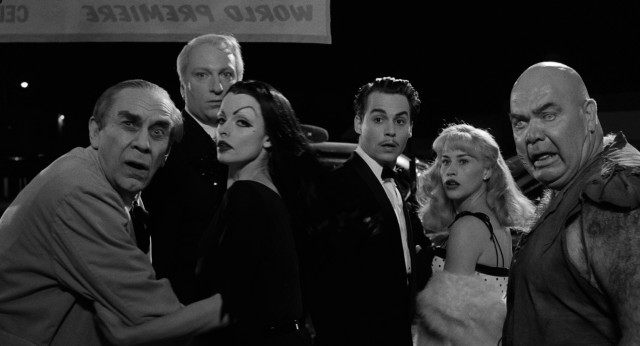 Unlike Beetlejuice, Batman or Edward Scissorhands, Ed Wood attains a sort of perfection regarding Burton's singular visual style and his ability to tell a coherent story. Though Batman and Beetlejuice are wonderful films, they always seem to wander and lack a unifying focus to pull us in. This is not the case in Ed Wood. There's always a jolly gothic fairy tale treatment that pervades through all of Burton's films, whether it lies in the supernatural treatment of a subject, such as in Beetlejuice, or the lofty narration that seems to be telling a parable, such as in Edward Scissorhands. However, with Ed Wood, there is a treatment of the material that feels like magical realism but isn't quite. While watching the film, it is grounded in the realism of being a biopic, but the remarkable thing is in the little moments that shine through because of Burton's natural talent.
Take, for instance, the scene where Wood meets his idol, Orson Welles, the director of Citizen Kane, in the later part of the film. Throughout the film, whenever Wood has doubts about his career, he takes a look at Citizen Kane, considered the greatest film of all time. The scene comes at a moment when Wood is meeting failure during the production of his most popular film, Plan 9 From Outer Space. He hops into a taxi and goes to the nearest bar, hoping to clear his mind and maybe get a little drunk. Suddenly, through the smoke of cigarettes and the noise of the bar, he sees Orson Welles.
This specific scene personifies the fairy tale aspect that Burton explores in all his work, and it comes at a time during the film's most startlingly realistic problems: Wood's realization that what he turns out might not be good, that he does not feel worthy of his job, that his finances are a mess, his film crew is falling apart, and his relationship with his fiance along with it. The mix is almost surreal, but feels, due to the nature of the film and Ed Wood himself, to fall along the lines of "dreams do come true."
Driven by a powerful central performance by Johnny Depp, a wonderful supporting cast including Martin Landau, a witty script by  Scott Alexander and Larry Karaszewski, and a focused but whimsical approach to the material by Burton, Ed Wood is a movie of pure energy and honest heart. These aspects can be observed in all corners of its little universe, whether it is with Wood's relationship with Lugosi, his encounter with Orson Welles, or the absolute joy for which he has in making movies.