(The Verge) – After Hurricane Sandy devastated the Jersey Shore with high winds and high storm surge, a nor'easter surprised the Monmouth community with some snow on Nov. 7. Monmouth University saw approximately 4 inches after mixing with rain.
According to the National Weather Service, Monmouth County received the most snow from this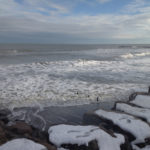 nor'easter. Locally, Long Branch received about 4.5 inches, and Oakhurst received 6 inches.  However, totals varied significantly based on location. While the Wayside section of Ocean Township and Red Bank only got 2 inches of snow, Howell received 11 inches and Freehold received the highest amount of snow with 13 inches.
Originally, weather forecasters were calling for this to be a rain event, possibly mixing with snow with no accumulation.
The snow also caused the University to cancel Wednesday classes that met after 4:30 P.M., and all Thursday classes.  Most of the snow was initially predicted to fall across the Pocono's.
After missing multiple classes, professors are now trying to scramble to find a way to make up for lost time. Prof. Suzanne Schwab, an adjunct Communication professor, explained that it is very difficult to make up for lost time.  "I'm strict with my syllabus," said Schwab. " I feel like I'm cheating the students." Schwab added that whatever she decides to do, she must have them "know what is important by December and give [students] what they need to walk away with."
Although the University cancelled Thursday classes, the University was right back to business on Friday like nothing even happened. Roads were cleared on Thursday morning allowing for people to get out in relatively quick fashion. Even though the snow did slow down some of the relief from Sandy, people were able to recover quickly and continue restoring the shore.