WEST LONG BRANCH, N.J. – The success of Monmouth's Basketball teams can be attributed to the skills of the players, the coaching staff, and the support of the fans; but, there are often key individuals whose contributions get overlooked in the process. Monmouth's basketball teams' student managers dedicate much of their time and energy to the success and betterment of the teams.
Alexis Jennings, a junior Communication major, has been a basketball manager for three years. Beginning the position her freshman year, Jennings has fostered a deep love for her role.
"I do enjoy being a manager. Although it is time consuming and it is a lot of work, I have the once and a lifetime opportunity to travel to places I would have never been able to go to otherwise and see things I never thought I would see," said Jennings.
Additionally, she acknowledges the time commitment the position holds. Her duties include traveling with the team, being present at every practice and game, ensuring the players and coaches have all of their materials for practices and games, and assisting with post-game meals. She also needs to make sure that all players have their game day gear when they need it.
Not only is she responsible for their necessities, but she is also required to travel to the nearest Redbox vending machine to make sure that the team has movies to watch for entertainment while traveling. These responsibilities require her to travel from campus to different stores to purchase items with the team credit card.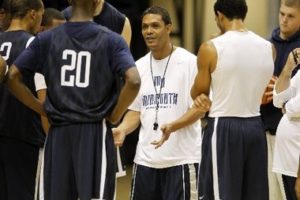 Antonia Mewborn, a junior Health Studies major, had the same responsibilities when she was the manager for the women's basketball team during the 2015-2016 season.
Mewborn became interested with basketball after working closely with the team. "I really enjoyed working for the women's team. It was fun being a part of the team and also traveling with them to their games. Working for the women's team is what made me start to have an interest for basketball in general," said Mewborn.
While managing the team has offered some positive experiences for the managers, it also comes with its fair share of troubles. Rebecca Roth, a junior Communication major, is a former manager for the men's basketball team, but quit once she realized the time commitment would prove to be more challenging than she could have imagined.
"I really liked my position as a manager for the basketball team, but it was too much of a time commitment for me. I wasn't doing very well in my classes and was having trouble getting adjusted to college life, so to take some pressure off myself, I decided to leave my job," said Roth.
Being a manager for a basketball team proves to be an obstacle for the manager's academic life. For Jennings, being the head manager requires her to travel everywhere with the team, meaning that she misses class quite often.
Although her absences are excused, she misses a lot of the lessons and has to spend a lot of time emailing professors and classmates to get caught up. "This semester alone, there was a point where I missed three weeks of my Monday classes in row," said Jennings.
Roth believes quitting was the best decision for her education. "Even though it was a fun job, I am glad I made the decision to quit. If I didn't, I'm not sure how I would've done academically during the basketball season, when my work schedule would have just been way more hectic," Roth explained.  "I love basketball and going to games, but the management position just wasn't for me."
Balancing academics and managing has been much easier for University student Alexandra Poley. The junior Social Work major has taught herself how to manage her time effectively. "I don't think being a manager effects my grades, but it has taught me to do homework at any chance I get, especially on the road," said Poley.
Academics aren't the only thing that suffer from the time commitment of athletics. It also proves to be a challenge for their social lives as well.
Jennings is also the president of her sorority, Alpha Kappa Alpha Sorority, Inc., Tau Eta Chapter. Being on the road has caused her to miss most of the chapter's programs and major on-campus events.
"Because we are away all the time, I do not get to spend as much time as I would like with my friends and sorority sisters. I also don't get much free time myself to go home and spend time with my family," said Jennings.
For Poley, the best part of the position is being a part of the team and sharing in on the success, while the worst part is the demanding nature of the job.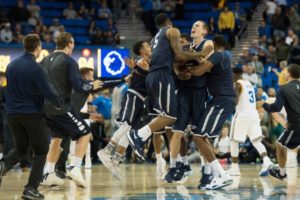 However, for Jennings, traveling is one of the rewarding advantages of the position. She also finds it rewarding that she gets to build relationships with the team and the coaches. For her, the worst part is the lack of time she has for her social life and school work. She also thinks that she is not paid adequately for the position.
Although the position is hard and requires a lot of time, the managers feel as if they are honestly appreciated by the team. "I think the players and coaches do truly appreciate everything we do even though they don't show it all the time," said Jennings.
Poley agrees. "I do feel like they appreciate what we do but sometimes they might not realize how much we actually do. Sometimes things can go unnoticed, but overall I do think they appreciate what we do at the end of the day," said Jennings.
The success of the team cannot only be attributed to the players – credit must be given to each individual who works tirelessly behind the scenes, as well. The managers may be appreciated by the team, but they are hardly ever recognized by the campus.