WEST LONG BRANCH, N.J. – On March 31st, Hawk TV and WMCX banded together to put on Rock N Raise, an annual benefit concert for the American Cancer Society. This year's lineup included three local bands – Drive, Kid, Shark Club, and Halogens – along with a stellar solo act, Slaughter Beach, Dog (also known as Jake Ewald from Modern Baseball). Rock N Raise was produced by students Russell Cerminaro, Brianna Merriman, and Jillian Young, and was directed by Nick Carlascio. In total, the event raised roughly $432 in donations, proving itself to be an efficacious achievement.
The event began at 3 p.m. in the Hawk TV studio, with activities and interviews occurring outside in the Plangere lobby. It was broadcast live on both Hawk TV and WMCX, and was hosted by students Nicole DeSarno and Dylan McGilloway. Rock N Raise additionally featured a hefty list of sponsors, including the American Cancer Society, Relay for Life, University Subs and Deli, Bagel Guys Deli, Avid, Scala's Pizzeria, Amy's Omelets, Bubbakoo's Burritos, Zeta Tau Alpha, and the Outlook.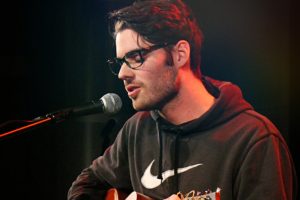 When choosing acts for the event, Hawk TV aimed to pick bands that would work up a crowd in the studio. Brianna Merriman, senior Communication major and Rock N Raise co-producer, explained, "we knew that we wanted to get someone in the lineup that was not as local, that maybe people would know, so we ended up getting Jake Ewald from Slaughter Beach, Dog, which we're really excited about. Other than that, some of the bands are local acts that have performed at WMCX before, or they have been on our M Factor show on Hawk TV, so they are just people that we knew from the community, whose music we really enjoyed." To attract sponsors, Merriman continued, "we go out and reach out to local restaurants and businesses every year to see if they'd like to participate. This year we have an amazing lineup of sponsors, all places that a lot of students go to on a regular basis."
Not only did Rock N Raise shine light on an incredible cause, but it also provided an opportunity for students to get involved and flex their professional skills. Courtney Moore, senior Communication major, said, "it's really great that Monmouth always has events where we try to give back to the community or just people in general. It's also a really great experience for the students here, because it is real life; we run [Rock N Raise] like a professional show, and people put a lot of time and energy into this, so we're very proud of it and we're very proud that it's bigger than us. It's bigger than just Hawk TV and Monmouth – we're raising money for a great organization and we're all incredibly proud of it."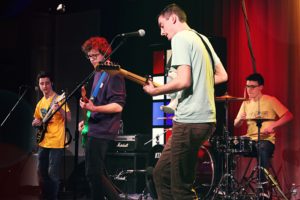 Nicole Desarno, senior Communication major, added, "because we have such an advanced set for a college, we can come up with a really professional product. The whole dynamic and feel of what we're presenting, and how we're covering it, and the way we're going about supporting these organizations, it's really above a collegiate level, and it makes a lot of people proud to be a part of it. Individually, it boosts everybody who is graduating from Monmouth and moving on to the real world, because they have something like this underneath their belt."
Every student involved seemed touched by the turnout, and the effort towards helping such an impactful organization. Merriman said, "we're really excited to have everyone on board. When you have a live event like this, it always highlights how important teamwork is, and how great the group of people we have working here is, and it's just really encouraging and heartwarming to see that everyone wants to work together towards this great cause, and to try and do something cool for the people around us."
Rock N Raise was a remarkable event that gave students important opportunities, all while giving local bands a chance to showcase their talents and giving back to an organization that has helped millions of people survive cancer. It is safe to say the event was a definite success, and we can't wait to see it again next year.