WEST LONG BRANCH, N.J.– As most of us know, the gym at Monmouth has been overly crowded these last couple of weeks. With the start of a new year and semester, students are motivated to get into shape for the much-awaited warm weather. Unfortunately, this motivation tends to fade as the months pass by. For those who need the extra motivation to stick with the gym, here's a breakdown of why students should do just that: fitness, stress, and focus.
For students at Monmouth, the dining hall regrettably does not always offer the healthiest of options. One can only eat a wrap for so many meals. Luckily, going to the gym can make up for that extra plate of french fries. Going to the gym is not just a way to get rid of unwanted calories; it leads to building muscle and becoming toned.
"I don't go to the gym solely to burn off what I had for dinner," says Tianna Fougeray, a sophomore at Monmouth. "I go to the gym because being strong and toned makes me feel confident and good about myself."
In a society that is  so focused on the idea of the perfect body, students could all use an extra confidence boost in the way that they look.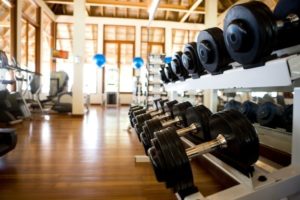 Along with the new semester have come new classes and new assignments. New assignments lead to new stress.
Fougeray said, "This semester has already been more demanding than any other so far and it has only been a few weeks! Going to the gym lets me burn off steam and gives my brain a break."
Giving your brain a break will allow you to absorb the information you are trying to learn before you attempt to learn more and therefore will be more beneficial when it comes to your studies.
Going to the gym will also increase your focus on your work. For most people, sitting at a desk for hours can get overwhelming and can be nearly impossible. It is more effective to break your library visit into smaller sections. By taking a gym break between these smaller sections, you will be able to come back to your studies refreshed and with a clear head. In other words, you will be more motivated than before to learn information.
"I have a routine of going to the library for two hours, going to the gym, and then going back," said Fougeray. "I can't focus for more than two hours at a time."
The benefits of going to the gym are endless, but these three reasons show why students should continue with their gym-motivation-streak throughout the entire year and not just for the first few weeks of the new year.