WEST LONG BRANCH, N.J.–Although later than normal, winter certainly made its way to the East Coast this January. Temperatures were colder than December overall, and much more snow fell.
Winter Storm Jonas dropped about a foot and a half of snow on most of New Jersey and its neighboring states between Jan. 22 and 23. This storm was the first major winter storm of the 2015-2016 winter season, and its impact was felt by everyone. Most people stayed in, as travel was pretty much out of the question.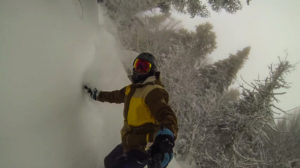 By Sunday, Jan. 24, Winter Storm Jonas had passed and most people emerged from their houses to begin shoveling. My roommates and I braved the storm and shoveled the day before (my back is still sore), so I took advantage of empty roads and almost two feet of snow to go snowboarding at Blue Mountain in Pennsylvania. I was surprised by how many people had the same idea as I did. The parking lot was full less than five minutes after I arrived.
That said, I was also surprised at the amount of snow. Blue received at least 2 feet in total and many areas were untouched still by late morning. The riding was epic.
Monmouth University Sophomore Caitlin Murphy came with me to Blue that day. "There was so much deep snow [at Blue] after the storm it was hard to keep from sinking in at times," she said. I agree completely – I don't think I've ever ridden so much powder on this side of the U.S.
The day after shredding the mountain, my roommates and I had the idea of using the massive amount of snow on our property to make our own mountain of sorts. We built a snowboard jump with a long, steep drop-in run, necessary in order to get enough speed. The run started on our deck railing, about 10 feet high. Riders needed to jump from the railing onto the drop-in, a gap of about 3 or 4 feet.
If a rider dropped-in successfully, they then had to pump over two rollers for more speed and set up for the jump. This all needed to happen very fast, as the run was only about 15 to 20 feet long in total. In the end, we all took bails trying it. "It was sketchy," said my roommate and Monmouth junior Dylan DeJohn, "but it was tons of fun and we got some great footage."

Today, our jump run has pretty much totally melted after a week of temperatures in the 50's, with some days even reaching the 60's! It seems winter has once again left the East Coast, but will it return again? A look at the coming week's forecast seems to say that it will. Snow is expected around midweek, with more expected in the week to follow. Temperatures will also drop back into the 30's for several days. No one yet knows what will happen after that.
All of this weird weather is being caused by a strong El Nino weather pattern. El Nino has been affecting us since the fall of 2015. It is characterized by warmer ocean water along the equator, which affects the climate of certain areas of the United States, as well as other countries. Every region is affected differently – we have no snow, while the West Coast has gotten more than it has in the past few winters. Combined with very little northern Arctic air reaching us this far south, this resulted in the strangely warm start to the winter.
As we advance later into February and eventually March, El Nino will continue to affect us. That said, this year's El Nino will lose strength as time passes. In theory, this winter could get colder and wetter late into the spring this year as it continues, but only time will tell what the rest of this winter will bring. In the meantime, don't put the shovels and ice scrapers away yet.