WEST LONG BRANCH, N.J.–The Coen Brothers' new film "Hail, Caesar!" was about as tasty as watered down airline Caesar dressing. No, this movie was not about cooking, but it was still overpriced and bland. I am still washing my mouth out to get rid of the terrible aftertaste.
If I had just one thing to say to the Coen Brothers, it would be that I feel gypped. Not only did I waste almost two hours of my time wondering what the movie's plot was, but I was also wrongly promised the so-called "Gods of Acting"–that is, Ralph Fiennes and George Clooney. In light of this, I would have settled for seeing more of Jonah Hill, who was also labeled as a headliner but only received at most five minutes of screen time. In fact, I could have just watched Hill's bit in the trailer, because that is virtually what his part was in the full movie.
The Coen Brothers did keep their promise about Josh Brolin. But dare I say, maybe there was too much of him? It felt like the entire time I was just tagging along with Brolin for his run-of-the-mill errands on a 50's-styled production lot.
Speaking of setting, it completely lacked originality. If I did not know better, I would have thought I was walking down Disney's Hollywood Studios, watching the actors do their bits on the side streets in a desperate attempt to get tourists' attention. Still, going to the theme park would probably make for more entertainment than this movie.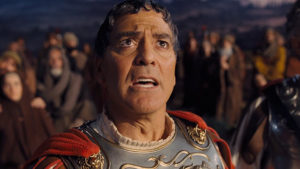 I am a fan of the Coen Brothers and I truly wanted to like this film just as much as I liked their previous films, including "Burn After Reading." As a fan, I am on solid ground to say their writing empire has fallen. It just seemed that this time around, these men did not, in preparation for the film, bother to ask what the script was even about.
But do not get me wrong, there were some parts that were more interesting than George Clooney's awful hairstyle. Channing Tatum blew me away with a singing voice I never knew he had. His ten minute skit was hands down the most entertaining piece of the movie. It was filled with tap-dancing sailors drinking away their worries before being shipped off. And what better way to do that then to have a lovably cliché musical number on top of bar tables?
However, even Tatum could not save "Hail, Caesar!" Overall, the film was simply unclear, monotonous, too political, surprisingly religious, awkward, uncomfortable, and highly disappointing. Instead of being rated PG-13, it should have been rated "Zzzz" for providing the audience with the ultimate snooze-fest.
As Michael Gambon's wisely narrated, "The stories begin, the stories end." And that's exactly what this film did–just not fast enough.