Art has been a non-verbal means of communication for most of human history.  For many, it speaks louder than words ever could; for those who are autistic, this is especially true.  The Student Activities Board and the Center for the Arts chose this channel of expression to unite the community and raise autism awareness.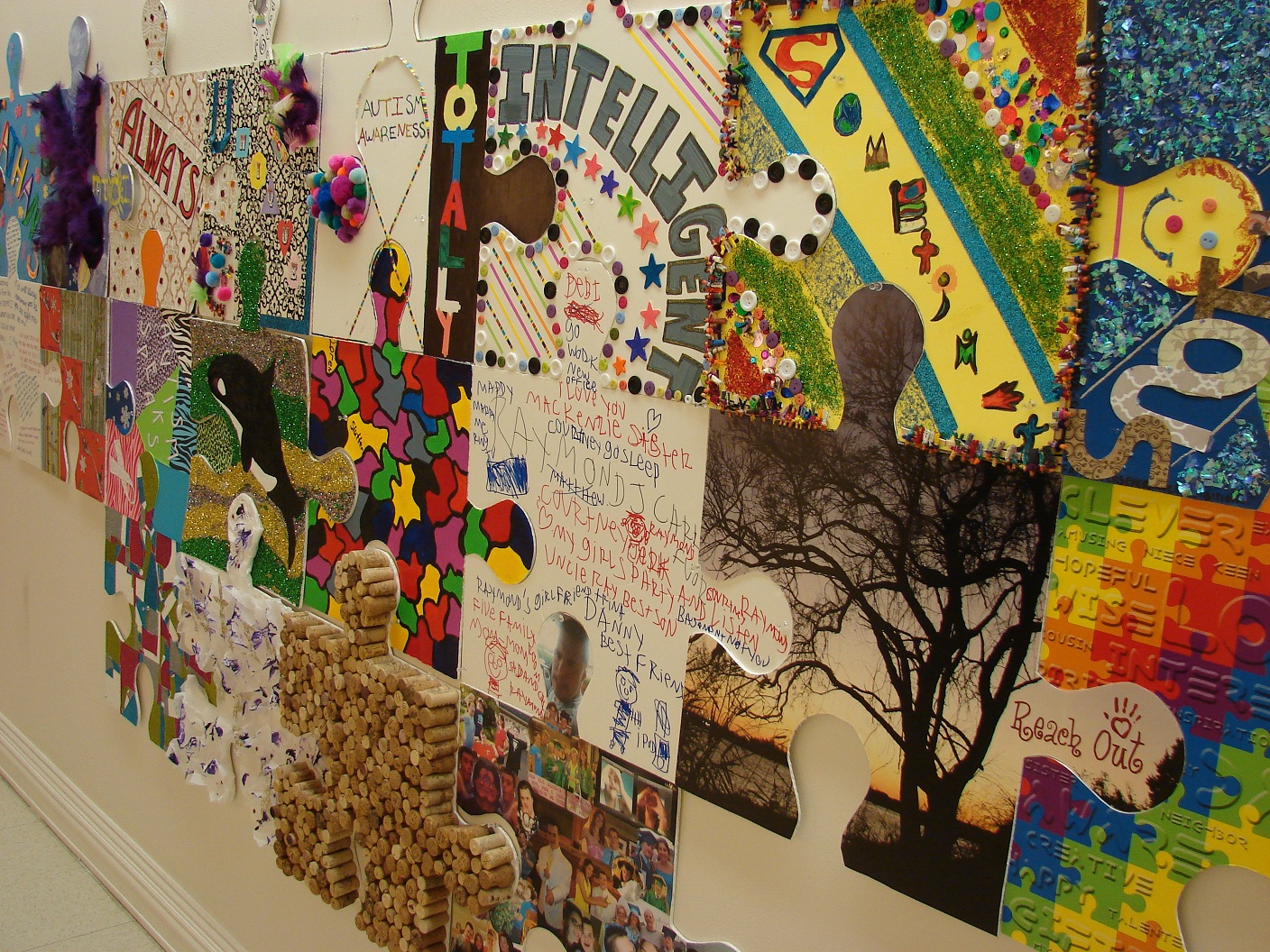 The ongoing Puzzle Project Exhibit held its opening reception on Nov. 9, with dozens of unique puzzle-shaped works of art, including a display complete with an interactive bell, one made completely of wine corks, lots of beautiful hand-drawn art, and even appearances by famous characters, including Pokeman and Angry Birds.  The exhibit continued to grow throughout the reception night as new pieces were added.  By the end of the exhibit on Nov. 23, many more are expected to be added.
"We at SAB wanted to promote Autism awareness," said Carolyn Walker, Vice President of Marketing and Membership, "and when Vaune Peck presented us with the Puzzle Project, we fell in love with the idea."
Autism awareness is a valuable crusade, especially in New Jersey where the occurrence of Autism Spectrum Disorders (ASD) is higher than the national average of 9.9 autistic children for every 1000.
Monmouth University's installation is part of the "Puzzle Installation & Collaborative Project" which began in 2009 by the Monmouth County Arts Council as part of the Teen Arts Festival, and initially consisted of only 200 pieces.  Today, the Project has grown to include nearly 5,000 puzzle pieces representing people of all ages from 17 states and eight countries.  "We're really advocating for art," said artist Tim Kelly, who runs the project, "because it is an extremely powerful form of expression that cannot be denied."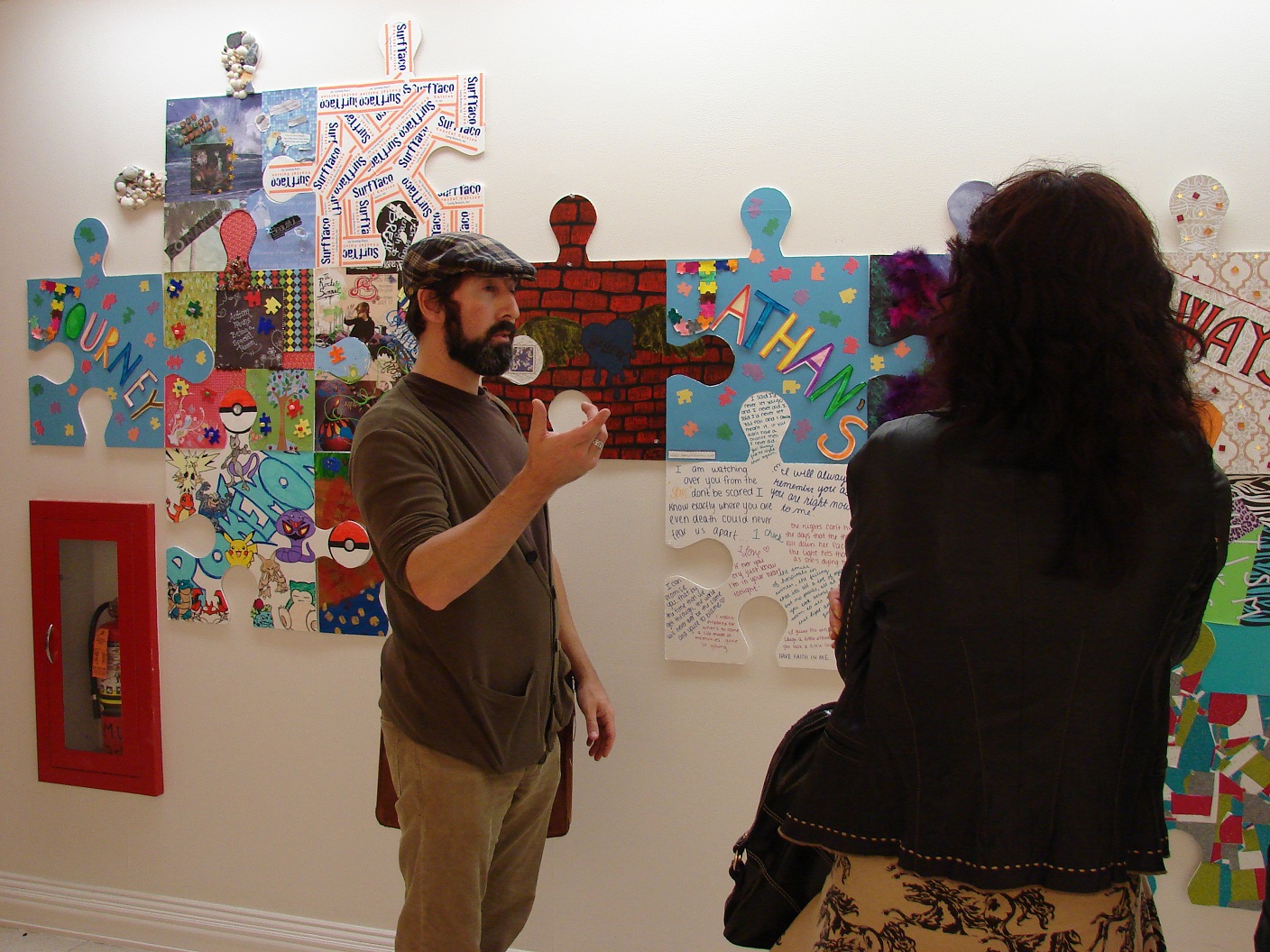 The Puzzle Installation & Collaborative Project could not have happened without the help of the always awesome Surf Taco, who donated money and space to get the project off the ground.  They also donated refreshments for S.A.B.'s opening reception of the Puzzle Project, and even contributed their own puzzle piece.
At the end of Monmouth's installation, Kelly will gather all of the completed pieces and put them together with thousands of others in a gallery in New York City.  Each collaborative installation, including the one this past summer at the Middletown Arts Center, offers blank pieces for visitors and artists to create, and proceeds are donated to a specific non-profit.  S.A.B chose autism awareness as their cause, and all proceeds from the donation will be given to Autism Speaks.
Christina Green, a sophomore, is one of the contributing artists who displayed her piece, a hand-drawn Pokémon-theme, during the reception.  "I came in to see everyone else's art and saw some really great pieces that made me smile, and that's what I wanted to do with mine. Pokémon goes way back, but it still makes people smile."
Blank pieces will be available for purchase for $10.00 in the Pollack Gallery until the end of the installation, but there is just one rule.  "Don't just make something, make something meaningful," said Kelly. "Each individual piece is a story, put but together, it is mind-blowing."
Autism Spectrum Disorders are a group of developmental disabilities that cause social, communication and behavioral challenges because people with these disorders process information differently in their brain than most people.  ASD affects each person differently, and symptoms can range from mild to severe.  Unfortunately, because symptoms vary in origin and nature, diagnosis and treatment can be difficult.  Early detection and intervention is key, so it is important to be aware of developmental milestones, and closely monitor your child's progress.