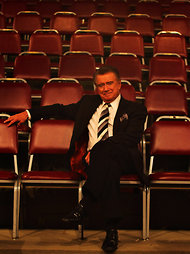 Regis Philbin announced in January that he would do one more season of "Live with Regis and Kelly" before retiring.
Philbin has been doing "Live" since 1983 with a slew of different co-hosts. Kathie Lee Gifford lasted from 1983-2000; and from 2001 until now Kelly Ripa has been at his side. His last show will be on Friday, Nov. 18th. While most Monmouth students knew about Philbin retiring, some students were still shocked.
Many students were saddened when Philbin announced that he would be retiring. Cassie Fortunato, a freshman, said that "There is no 'Live' without Regis". Many Monmouth students hold the same view.  Ani Sasala, also a freshman, said, "I am sad because he was the one who started 'Live' and I am not sure who could replace him". Students also discussed possible replacements for Philbin; some of the names include Anderson Cooper, Andy Cohen, or Mark Consuelos. One student mentioned how Mark and Kelly had great chemistry when he previously co-hosted with Kelly during the summer.
The show will be different without Philbin, however, Kelly and her new co-host could provide a new and exciting take on the show.
Many students agree that Philbin brings an exciting vibe to "Live," that no one can be replaicate. The only thing Regis fans can do is wait and see what happens next.