WEST LONG BRANCH, NJ- Around the corner  lies a little piece of heaven that Monmouth students can't get enough of. Broad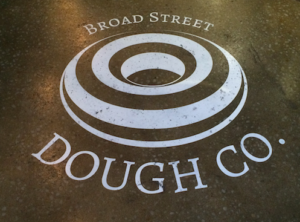 Street Dough Co. is home to the old-fashioned doughnuts we all know and love, with an unique touch.
These out-of-the box confections are served up daily, fresh and warm with toppings of your choice. With an ever-growing social media following and orders throughout the Eastern Coast, Dough Co. owners Dess and Jess had certainly made much more than ripples across the Jersey Shore.
"A few years back when cupcakes became the boom, we went on a vacation and friends of ours brought back delicious doughnuts that were made when I was a kid," said Dess. "I took a bite and was like wow this is kinda old school, simple. I couldn't let the idea go."
Dough Co. offers a variety of delicious doughnuts  including the old-fashion, gourmet, the newest cronut wonder, and their signature trademark "Vulgen" doughnut which is Gluten-Free and Vegan friendly.
These delicious, mouth watering creations have been featured in BuzzFeed with over 70,000 views as well as local publications, including The Coaster and Jersey Shore Magazine.
"A few weeks ago my teammates and I tried DoughCo. for the first time and it was amazing! " said junior Nikki Sandelier who plays for the Girl's Softball Team. "DoughCo is definitely on our list of must eats from here on out!"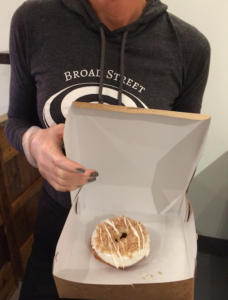 When asked what doughnut would best represent Monmouth University, Dess replied with the Crumb Bun Dough Cro. "It's something fresh, vibrate and creative which is all you guys are."
The Crumb Bun features a plain doughnut dipped with vanilla glaze and topped with streusel crumbs, only to be drizzle with more rich vanilla glaze.
"Not only were the doughnuts delicious but the owner was super nice and welcoming," said Nikki.
Dough Co. has been spotted at Monmouth University's PRSSA and ZTA's "Fall Into Pink" fundraiser in October, which raised money for breast cancer awareness and The People's Pantry.
"Everyone has been raving about how great Broad Street Dough Co. is and I got to experience it first hand during PRSSA and ZTA's Fall into Pink event," said senior Maggie Zelinka. "They were generous enough to give a donation. It's always nice to see a smaller company doing well."
Known for their specialty doughnuts and over the top customer service, it's certainly a must have experience! As said from the doughnut master minds themselves, "Don't walk, run!" and see what all the commotion is about. We guarantee you'll be back in for another dozen or two.