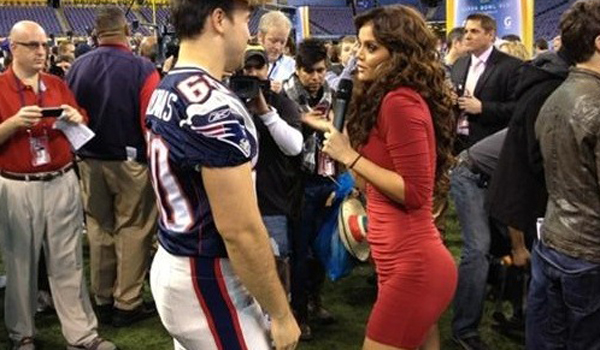 West Long Branch, NJ  (The Verge)- We all remember the story of Ines Sainz, the CNN en Espanol Mexican journalist who has become more famous for her stunning beauty than her game day reports. The model/reporter accused players on the NY Jets for using improper conduct when she entered their locker room in skin-tight jeans and a cropped white tanktop for a postgame interview with Mark Sanchez.
Well move over Ines, because there's a new beauty queen in town. Marisol Gonzalez, another gorgeous journalist hailing from Mexico, made headlines today when she showed up to the Superbowl Media Day in a cleavage bearing, skin tight red dress.  Perhaps Marisol wanted to one-up her rival Ines Sainz as they are sports reporters for comepting networks.
Some people may find her over-the-top evening wear a little too sexy for the football field, others likely appreciate her red ensemble, and some may think nothing at all of the LRD. Of course dressing so provocatively can be quite distracting, especially at a place and time as the Superbowl Media Day; but it's quite possible that Marisol was hoping to gain publicity of her own – which certainly was a success!
In an effort to stop future happenings like the NY Jets making overly flirtacious comments and gestures to scandalously dressed female reporters, do you think it be deemed necessary for the NFL to implement a dress code for the press? It would be hard to ban the reporters of their creative freedom and individuality, but perhaps a little more professionalism could be granted when considering ones wardrobe for such a public event.