(The Verge)-It's beginning to look a lot like Christmas. Which is beginning to look a lot like presents…and a lot of gift giving stress!
Luckily for us the Tri-State area is one of the most mall-ridden, consumer crazed, product populated areas in America. Not only is NYC literally overrun by stores both small and large, but it is also the perfect place to buy what I call a G.I.A. (gift in action). A G.I.A. can be anything from a cooking class, to concert tickets and more. G.I.A.'s are the gifts that give way beyond the holidays and are something that the recipient can look forward to doing, making it all the more meaningful.

The NY based website DNAInfo.com's Holiday Gift Guide is the perfect destination for your holiday shopping journey. This website is dedicated to finding the most unique NYC based gifts for anyone on your list. Not only the traditional physical gifts but also the unique experiences that qualify as G.I.A's. The Gift Guide's writer Victoria Floethe is somewhat of a gift matchmaker, spotting our exactly which gifts will perfectly fit the people in your life ranging from Grandpa to Babysitter.
Great Examples:
For Dad: A brooklyn whiskey distillery visit. $48
For Mom: Vintage cookbooks or magazines. $5-500
For Grandma: A NY Botanical Garden Membership. $60
And one of my personal favorites found when perusing the site, was the Best Friend gift idea which included a spa day at Spadium ($110 each) for you and your friend followed by Floethe's suggestion of a Korean feast (anything involving food is always welcomed in my book).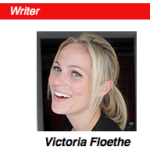 The reason Floethe's gift ideas are so on point is because she takes the time to really think about which gifts would be most special for the people in your life, that will make an impression and bring more joy than a 3-pack of socks ever could. Not all of them are inexpensive, in fact some are outlandishly priced (for New Yorker's with money to blow), but she makes sure to cover both ends of the spectrum so even a student on a budget can find a unique and thoughtful gift.

Another great website I found for experiential gifts is xperiencedays.com which allows you to search gift experiences by City. Most of these were inexpensive and include really unique and fun ideas for literally anyone you can think of!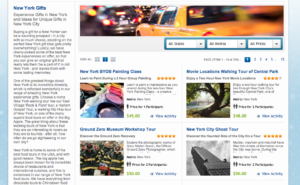 Personal Favorites:
BYOB Painting Class ($45.00 pp)
Hip Hop Walking Tour of New York ($64.00 for 2 people)
Hudson River Kayaking Tour ($75.00 pp)
Brooklyn Cupcake Making Class ($78.00 for 2 people)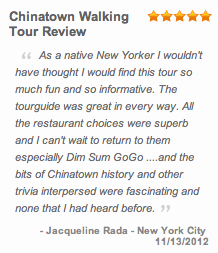 What I love most about G.I.A.'s is that they are a bonding experience, whether for you and your gift recipient or for them and another or even by themselves. By providing an experience you're creating a memory and although traditional gifts can be memorable, I believe that getting out there and experiencing all the amazing things that the biggest and greatest city in the world has to offer is much more exciting, meaningful and enjoyable than a physical item.
….although if were talking diamonds or designers I may recant that statement.
Good luck holiday shopping MUer's!