(The Verge) – With warmer weather on the way, this transpersonal staple is a number one trend for any fashionista following military fashion.  This piece will see you through season after season and is most definitely worth investing in. While most fashion trends tend to burn out within a few years, women's military fashion isn't going anywhere and will continue to evolve over time. Whether you layer it up or make it the highlight of a simple jeans and t-shirt outfit, army jackets will give you an abundance of street credibility.
According to Pinterest.com, the history of American fashion recruiting the military style dates back to the 1940's during WWII. The apparel would not make an appearance or be accepted in civilian fashion until the fatigue jacket was introduced to service in 1943. Military clothing also largely associated with militant advocates  during the Black Power movement and the Vietnam Antiwar movement. Thrift-shopping hippies began to popularize and modernize the button up look during the anti-war movements of the 1960's. Flower children gave the military jacket's androgynous feel a face-lift by pairing them with flowing skirts and bright fabrics. Although some apparel was modeled after uniforms of the Georgian and Victorian eras, military is now about functionality and utility.
The ever-cool military jacket is popular among women and men, with different ways to accessorize it. Men wore it with khakis and dress shirts with ties. Meanwhile, women often pair the jacket with their favorite eyelet dress or with skinny jeans and boots. According to Yuppie.com, the modern military look consists of shapes that are controlled and well thought out rather than free-falling and shapeless. One should incorporate studs, spikes, sequins and patches with the military trend for a unique twist on this classic ensemble. The color palette focuses on khaki, green, black and brown. If you can't afford Alexander Wang or Rag and Bone versions, affordable high-street retailers such as Zara and Topshop have displayed fitted parka army jackets, army print coats and studded T-shirts. Military surplus outlets are a great place to find authentic military clothing at an affordable price. They often come with patches and cool accessories already attached to the garment.
A great way to have fun is to try these DYI tricks to embellish your military jacket in these five easy steps, according to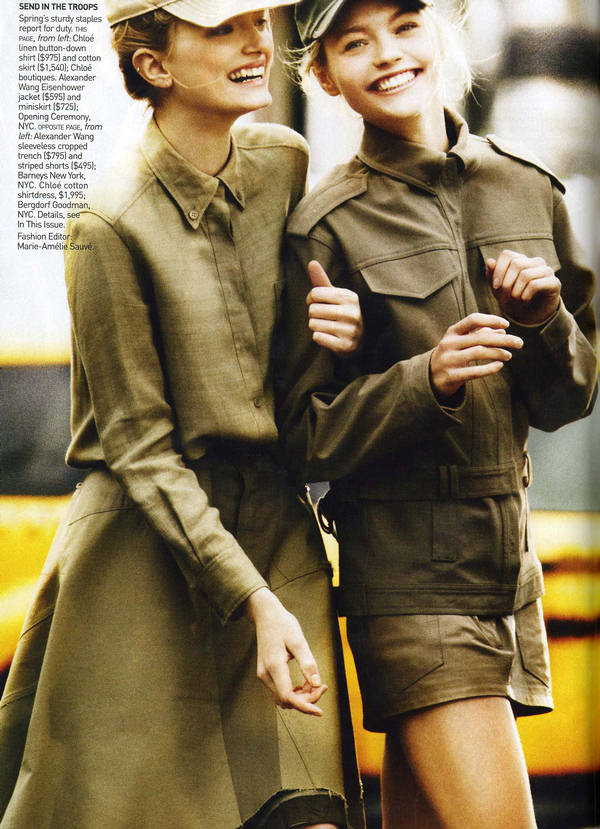 Lovilesh's Blog.
1) Start by finding a fitted military jacket of your choice. You can use one that you already own or look at a thrift store for a used one so you don't have to spend a lot of money. Any fitted jacket will work, but try to find a jacket with pocket flaps, if possible.
2) Separate your jewels, studs etc. to ensure you have enough for both pocket flaps. Work your way from one pocket to the next
3) Next, prepare your needle and thread. Make sure that the thread is the same color as the jacket.
4)Start sewing! Start with your largest jewels first and then continue with the smaller ones.
5) Get a pair of pliers and fold the ends down so nothing pokes through. Continue making your way with other embellishments and fill the gaps with the smaller gems. Repeat on the other side.
6) Make sure you tie your threads tight and make sure not to use just one piece of thread for the whole project so that if the thread comes undone, all the embellishments won't fall off.
And that's how simple it is.
A recent poll was conducted at Monmouth University on March 25 discussing the iconic military trend. In fact, many were in favor of the fashion staple. Allyce Murray, a senior English Literature major, said, "Military fashion is a style you can't mess with." She adds, "It's not something that you have to totally rework to make it look sharp." Amanda Barracliffe, a senior Graphic Design major, said, "Heavy duty utility pieces in khaki and olive make up an urban uniform that commands the season's attention."
Tania Braukämper, the editor of fashionising.com, says the reemergence of military fashion stems partly from its association with the 1980's. Fashion from that decade has made a comeback, she says. Plus, military campaigns such as the Iraq War have influenced fashion by making the military style topical, not necessarily because people take a political position on particular wars. "Wars have existed throughout time," Braukämper adds. "So there will always be designers embracing the military look."
With all the trends swirling around us, there seems to be a general movement that makes it all happen. Style Clashing is the big thing that embodies it all: from prints to chunky jewelry to lace, to evening skirts and heavy boots. If the '80s were all about broad shoulders, bad make-up and big hair and the '90s about grunge, the 2000s are about clashing styles. Newly streamlined and refined, the military jacket gets a makeover this year. We may have already been wearing it as part of the ongoing military trend, but it's with a new lease on life that it can take you right through fall and beyond.