(The Verge) – On Tuesday, April 10, Monmouth University professor Jennifer Shamrock hosted a presentation for the Global Understanding Conference called "Fully Loaded: Gun Violence in America." With so much controversy about gun control occurring over the past year, this topic was relevant and important to learn more about.
Shamrock and two student speakers, Rachel Fisher and Jose Aguilar, started the presentation with some attention grabbing facts about gun violence. "The United States has the highest gun ownership rate in the world, about 88 guns per 100 people," stated Shamrock. The United States accounts for 4.5% of the world's population, and 40% of the world's firearms.
Many different video clips were shown during the presentation, all providing valuable information and stories about gun violence. A clip of a news report stated that this past November, Americans tried to buy 2 million guns. It also stated that there are more gun stores in the United States than there are gas stations or grocery stores. There are more than 130,000 licensed firearms dealers in the United States, with about half of them being large retail stores. For whatever reasons, Americans value their firearms highly.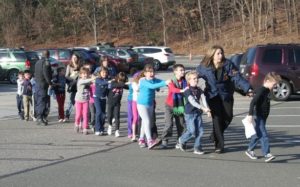 While many people believe that we have enough laws to prevent gun ownership, the facts tell us otherwise. While federal law does require a background check to buy firearms, there are private sellers who do not exactly follow these rules. Hidden cameras revealed that gun shows, where many private gun sellers do business, are a huge loophole in the law. Out of all of the illegally trafficked guns in the United States, 30% come from these shows.
A team of investigators worked undercover at some of these shows, asking sellers if they needed a background check. Federal law states that "if private sellers have a reason to believe a buyer could not pass a background check, it is illegal to go through with the sale." Then, a private seller of the investigators from the undercover video stated, "Well that's good I don't need a background check, because I probably couldn't pass one." To this, the seller simply responded, "I don't care."
While some private sellers did stop the sale after the investigator stated he could not pass a background check, the majority did not. It's scary to know that these sellers only care about the money they are making, and not the welfare of the surrounding community. They could be selling to criminals, or psychologically unstable citizens. This is clearly a huge problem. Since the adoption of the background check law in 1968, it has stopped the sale of 2 million guns that could have been in dangerous hands. The background check law should apply to all gun sales, not just licensed sellers.
After acknowledging the problem, several stories were shown where gun violence has affected the lives of innocent individuals.
Most recently, on April 8, a shooting occurred in Toms River, New Jersey. Somehow, a 4 year old boy got his hands on a 22 gauge rifle, and accidentally shot his 6 year old neighbor. The 6 year old died from his injuries. This is not an example of illegal gun ownership, but irresponsible gun ownership. There is no excuse for a rifle to be easily accessible to a 4 year old.
After this, the presentation tugged at the heartstrings of the audience by showing photos and reading stories about all of the young victims of the school shooting in Newtown, Connecticut this past December.  It was extremely sad and moving to hear about the loss of such promising young lives.
The presentation wrapped up with some information on how anyone can help reduce the problem of gun violence in America. You can write to your members of congress and urge them to pass tighter gun legislation, or get involved at www.DemandAction.com.