(The Verge) – Do you like to sing? Do you want to get involved at Monmouth University? Then Glee Club would be a perfect fit for you. The Harmonic Joules Glee Club is now in its fourth year at the University, and it is running stronger than ever.
Senior Jasmine Walker founded the Glee Club her freshman year. Walker spent her high school years completely immersed in musical activities, and she felt that Monmouth lacked ways for students to get musically involved, unless it was for a class. This gave her the opportunity to create something new. Glee Club is open to students of all majors and levels of experience.
In her years as President, Walker's biggest accomplishment was booking and performing at former President Gaffney's roast, and the post-roast breakfast the following day. Gaffney was deeply touched and moved by Glee Club's dedication and skill. "Getting involved on campus is the precursor to getting involved with life. If you let your four years go by without making new friends, learning different things, and having great experiences, then you cheat yourself," said Walker.
The classroom is a good way to get involved, but by taking an extra step, students can make their college experience even more rewarding and valuable. Walker has used her music education thus far to write her very own Christmas song that glee will be performing at the Winter Concert in December.
Walker is also involved in the spring musicals, she was an Orientation Leader this past summer, and she works in the President's Office. As a Music Education major, Glee has helped Walker in very practical ways. "Glee taught me how to direct a choir, arrange music, and create music as well. These skills will help me in my field, and they make me confident that I will succeed as a choir director after graduation," said Walker.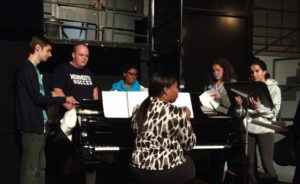 Vice President Devon Henry is a sophomore who will take over as President next year, as she is currently acting as Walker's apprentice. Henry spent the greater part of her life in church and school choirs, and there was a void until she joined Glee. "It exists as an outlet of expression for me…I'm kind of shy and would rather say nothing than possibly embarrass myself. At Glee I kind of shed that. I can shed that exterior and be who I am, you know, the dorky, theater obsessed kid, without fear of being judged," said Henry.
As an Orientation Leader, Walker was able to reach out to various first year students who could spread the word to their friends and classmates. Garrett Brown is a first year student who was encouraged by Walker and also his friend Courtney Davis.
Brown is a Communication major who is very involved on campus in Glee, Student Government, Hawk TV, the Debate Team, Residence Hall Association, and the First Year Service Project. In high school, Brown was the president and founder of Wildwood Catholic's Glee Club, and he was an active member of the choir as well. "I love to sing and so did my friends so we started our own Glee Club in high school, and I wanted to continue here at Monmouth," said Brown.
Davis is a first year Music Industry major who takes piano and chorus classes for her major, and she is a member of Hawk TV and the dance club. She also participated in glee and choir in high school, and continues at Monmouth as a member of glee and the up-and-coming a-cappella group on campus, the Sea Sharps. "I love glee! Jasmine is a really great leader and the song that we're working on is really pretty and it's amazing that she wrote the song herself. I'm just excited to learn more and perform," said Davis.
Ruairi O'Neill is another first year student who learned about glee and other ways to get involved during his orientation. Here at Monmouth, O'Neill is a Music Education major who takes personal piano lessons and spends a lot of his time practicing at Woods Theatre. "I don't just like glee, I love it. Anyone who hasn't joined glee really should join because it's a lot of fun…I love singing more than anything in this entire world," said O'Neill.
The Harmonic Joules Glee Club meets in Woods Theatre on Thursday evenings at 7:30, and is always welcoming new members. If you have any questions or would like more information, please contact Jasmine Walker at: s0769279@monmouth.edu