WEST LONG BRANCH, N.J. – It's the most wonderful time of the year – no, not Christmas – it is the beginning of the playoff season. The NBA has commenced their playoffs, meaning their top teams are fighting for the most covenant prize in the entire basketball league.
The NBA kicked off its first round of playoffs with the Cleveland Cavaliers securing their first home win against the Indiana Pacers 108-109, and the San Antonio Spurs protecting home court with a win against the Grizzlies 111-82. Additionally, the Toronto Raptors had a miserable loss on home court against the Bucks 97-83, and the Clippers had a surprising loss against the Utah Jazz, who lost their best player, Rudy Gobert, in the opening minutes, losing to them on a buzzer-beater layup on their home court. All teams that lost their first home game were able to regroup and tie the series 1-1. The Clippers demolished the Jazz, and the Raptors outlasted the Bucks thanks to Kyle Lowry's 22 points.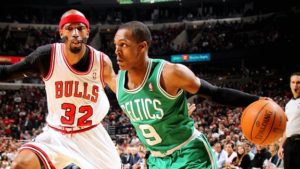 However, the most interesting topic of the playoffs has been the struggle of the #1 seed Boston Celtics going up against the #8 seed Chicago Bulls. It was an emotional night for Boston's starting point guard Isaiah Thomas, according to The Boston Globe, "When the arena dimmed for the anthem, it offered the grieving Thomas a rare moment of privacy in front of 18,624 spectators. His eyes reddened and tears streaked down his cheeks. On Saturday morning, Thomas's 22-year-old sister, Chyna Thomas, was killed in a crash in Federal Way, Wash., when her Toyota Camry veered off a highway and struck a cement barrier and a large sign post. She died at the scene." This may not have been the way the upcoming star point guard and 1st time all-star pictured his first game would start, but he proved his might and persevered. The Boston Celtics needed an answer in Game 2 and the Chicago Bulls, led by Jimmy Butler, Dwayne Wade, and Rajon Rondo, had no remorse for the all star. They sent him their sincere condolences, but once tip off began, it was all business. Butler and Wade finished the night with 22 points, along side Rajon Rondo's almost triple double night with 11 points, 9 rebounds, and 14 assists.
The Bulls take a 2-0 lead against the #1 seed Boston Celtics and are headed to Chicago for games 3 and 4. Lets see if the Celtics can pull it together and steal one in Chicago.