WEST LONG BRANCH, N.J. – With the holiday season upon us, daylight hours ending earlier, and the stressful whirl of a busy workweek, many Americans need an extra burst of energy to keep them going during the day. For most, the gift of consciousness in the early morning is one that comes not from a good night's sleep, because let's be honest, who really gets that on a daily basis? No, our fuel for the day comes from America's elixir of life, coffee.
Since coffee is a staple in America's daily diet, the competition between coffee producers is fierce. Not only do we have to consider the Dunkin Donuts vs. Starbucks debate, but throw in Wawa, Seven-11, local coffee shops, and devoted at-home brewers, then our menu selection becomes chaotic.
So the question remains, which coffee vendor do we choose?
To settle this battle of breweries and select the perfect cup of joe, there are a few elements you must filter through and consider. What qualities about your coffee do you really find important? Is it a matter of taste and flavor, or are you more concerned with stretching your dollar?
When it comes to saving money, there are a few steps to take that will pretty much never steer you wrong. First of all, don't go to Starbucks. Second, think about the possibility of brewing your coffee at home. In my opinion, at-home brewing is really the wisest option when it comes to getting the coffee you crave, for the least amount of money.
At-home brewing lends you the opportunity to create your own cup either by traditional brewing means, or with the newer innovation of pod products, such as a Keurig. Chris Rysak, 33, working dad from Lakeland, Florida prefers to get his coffee from Tassimo. "Three weeks' worth of pods costs the same as two Starbucks trips", explains Rysak.
In addition to saving money with at home brewing, you can also craft your coffee with as much attention and care as you would like. Monmouth University student Brandon Wasylyk, 21, from East Brunswick, N.J., attests to the need for coffee in the morning, "I need that cup first thing in the morning to get moving," he jokes. Wasklyk is a supporter of the Keurig for its convenience and because home-brewing saves money and tastes better overall, "I can double brew if I want extra caffeine, and I prefer the taste of home-brewed," says Wasklyk.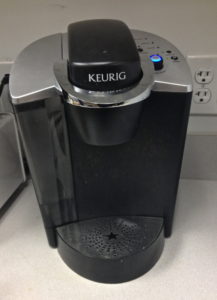 So at-home brewing saves money and allows for that personal touch on each cup of coffee you produce, but what about the in-store alternatives, for those who are on the run?
Alyssa Baus, 21, a student at Rowan University from Swedesboro, N.J., certainly chooses to "Run on Dunkin", when it comes to her morning coffee. "It's cheap, I don't have to get out of my car, it's amazing, I love them," raves Baus. Although their coffee is mass-produced across the globe, Dunkin Donuts is known for their cheaper-than-Starbucks daily brew.
On the other hand, Richard Dugan, 20, from Somerset, N.J., is a huge fan of Starbucks Coffee. "It's a taste preference," he says, "I love that burnt taste! You're not really saving any money, but I love the atmosphere when I go there to get work done, or to meet with others. I like to occasionally brew my own coffee, especially when I'm making it for a large group." Dugan prefers the quality of Starbucks coffee, and the atmosphere of their many locations, often made to resemble a cozy, local coffeehouse.
Does Starbucks really have the quality needed to make consumers pay the extra buck though? Monmouth student Rachel Kenny, 21, of Stewartsville, N.J., does not think so. Kenny is actually a huge advocate of brewing her own coffee, but Starbucks Corporation appears to really 'grind her grounds.' She explains, "It's exponentially cheaper than buying a cup anywhere…but if I do go out to get coffee, I prefer Dunkin Donuts, just standard, black coffee. I'm also partial to Wawa coffee. Starbucks tastes like mud and is overpriced."
The floor is still open in the Starbucks/Dunkin Donuts debate when it comes to taste, but it is apparent that if you're trying to save a buck, Dunkin is the better bet, whereas Starbucks provides a comfortable atmosphere that draws its loyal consumers in, even if the looks are (in a way) part of the price.
Those who favor the cozy, atmosphere of Starbucks may certainly enjoy some local coffee shops as well, the best often being a diamond in the rough. However, the benefits of a local shop usually bring in their true, daily customers. Alice Gabriel of the New York Times reports about a few gems she found in New York State.
One location, Art Café in Nyack, N.Y., provides customers with culture with their coffee. Gabriel writes, "Devotees come for the fine Middle Eastern food, soothing teas and studiously extracted coffees. Aiming to capture some of the charm and insouciance of cafes in Tel Aviv and Europe, Mr. Kramer, with his Israeli-born mother, Dorit Kramer, and his sister, Dana Daly, opened the cafe in 2005." Art Café provides both cultural aroma and delicate attention to detail when it comes to their customer service and coffee crafting, something that large corporations like Dunkin and Starbucks just cannot match.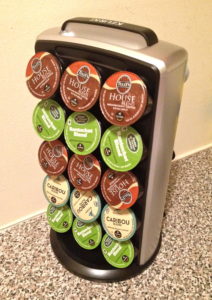 A second location that Gabriel highlights is the Italian-inspired Zeppoleme, in Port Chester, N.Y. This is another café that is rooted in cultural tradition, and also depends on individualzed service and precise attention to detail. "Zeppoleme's well-trained baristas know the drill. My latte, made with Stumptown's Hair Bender espresso, was supreme, with full-bodied foam and notes of chocolate, caramel and apricot," raves Gabriel.
So, whether it is a cultural locale you're looking for, delicately steamed espressos or a personalized customer service experience, local coffee shops might be your vendor of choice. These specialized experiences may cost you a few extra dollars, but their benefits can be worth the buck.
Personally, if I am looking for that local-brewed taste, I prefer Rook Coffee Roasters, which have become increasingly popular in the Monmouth County area. Their rich, strong coffees are brewed in quaint, local shops including those in Oakhurst, Red Bank and Long Branch, to name a few.
Overall, at-home brewing is really your best bet in securing the finest cup of coffee to start your day. Starbucks locations provide a favorable atmosphere, but location can only do so much for an overpriced, shoddy cup of coffee. Dunkin Donuts and Wawa stores provide a standard brew at a much lower price, and often greater convenience.
To get the absolute most bang for your buck, try investing in a traditional coffee pot or maybe even a new Keurig. The price of the machine will be well worth it, after the savings build up from avoiding your daily Dunkaccino or no-whip, nonfat, peppermint mocha.