WEST LONG BRANCH, N.J. – We all know what we're getting when we flip on the television and scroll into the cable news channels, right? It's impartial, dispassionate material about, let's say, the day's House Committee hearing, no? Keep dreaming. Better yet, just don't be gun-shy with your remote; C-SPAN never looked so enticing.
These days on cable, you're likely to encounter the bumbling, obdurate voices of figures like Chris Matthews, Ed Schultz, Rachel Maddow, Sean Hannity and Bill O'Reilly. Though these lion-like voices are loved by their respective camps, the American people deserve better.
Sadly, contentious events such as the Benghazi attack in 2012, the recent government shutdown and the heated rollout of ObamaCare[1], have only lit fires under the disgruntled television personalities. These opinion leaders are turning the events into elliptical, redundant rounds of bickering.
So, is it safe to assume that because of this nightly bombardment on cable viewers, we're really stuck in a futile journalistic world? Are we forced to listen to these pawns of party politicians and pundits who seem to use only ad hominem arguments? Has the golden age of newscasts, an industry formerly led by Edward R. Murrow and later, Walter Cronkite, really been forsaken?
Just hear these blunt words: Each of the hosts on the partisan networks have pushed one too many buttons and now, it is time we make them pay. Simply shield your eyes from all the pouting and cynicism, and flip into the obscurer channels up near local programming.
What will you find? Well, for one, there's "Q&A,"[2] a program on C-SPAN hosted by the station's founder, Brian Lamb. It features prominent politicians, journalists and authors, and aims to teach and inspire viewers. Luckily, it is not only ostensibly objective; it's actually a blank canvas for various perspectives. Intrigued? (Tune in on Sunday evenings).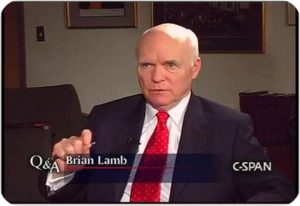 So, any sort of exodus from cable (whose hosts can probably be delegates at party conventions) would be a step in the right direction. But, before we can confidently prescribe, it is best to take a step back and thoroughly examine the afflicted cable world and its evolvement since the inaugural days under the Reagan, Bush and Clinton administrations.
A lot of the freedom resulting from the current cable formats (systems of: "state issue, debate, then entrap"), is partially the result of the Reagan era revocation of the Fairness Doctrine. According to Conrad Fink, it was a measure that demanded news outlets to cover both candidates in a race or the controversial side of a news peg. With it out of the picture, Fox News, MSNBC and CNN felt compelled to sway toward more of a "talk show" approach as they came into operation in the 1980s and 90s.
A recent Pew Research Center study[3] underscores that cable transition, writing how "The news programs that Americans watch on national cable channels and their local television stations have changed significantly in recent years while the network evening newscasts have remained remarkably stable."
More specifically, Fox News (which emerged under business magnate, Rupert Murdoch, in 1996), debuted with anchors Neil Cavuto and Tony Snow, but only gained a substantial following after the emergence of aggressive interviewing tactics by Bill O'Reilly and Sean Hannity. In their shows, they pioneered nightly, stylized debates and mouthed diatribes in lengthy monologues. Ultimately, they helped create the genre of highly subjective "news" shows, which kept the newer networks afloat against traditional voices like CBS, NBC and ABC.
According to Encyclopedia Britannica,[4] "In the wake of the September 11 attacks, cable television viewership surged, and Fox News built on its gains to surpass CNN for the first time in January 2002—a lead it would retain throughout the decade."
It seems as if that distinction has stayed in Fox's Midtown studio, too, as Broadcasting and Cable reported[5] that the station brought in an estimated 2.7 million viewers on the Nov. 5 election night, doubling the next closest total of 1.04 million reached by MSNBC.
Regretfully, those ratings may directly correlate to the actions of the on-air, gadfly contributors of all these cable networks. They each burden us with impractical demands for worldly problems and just don't seem to go away.
It's at the point where they are making a sport out of crafting controversial statements (Cue Fox's "The Five" co-host, Bob Beckel, and his f-word explosion[6] or MSNBC's "Hardball" host, Chris Matthews, with his "Grand Wizard Crowd" statement[7]). Their vulgar approaches, sadly enough, often appeal to gritty, embattled fifty-somethings, and older.
In a different (promising?) 2013 Pew Research Center study,[8] authors wrote that "Demographic factors could further weaken (cable news) viewership in the years to come. Regular viewers of the evening talk shows, which tend to draw the highest ratings across cable news, are older…The 50 and older audience makes up 66 percent of Fox's 'Hannity'…59 percent of MSNBC's 'Hardball'…and 57 percent of its 'Rachel Maddow Show.' These figures have inched up in recent years, while those for younger audiences have declined. Instead, the young 18-24 year-olds are turning to digital options…" So, where youth viewership is crucial, a failure to lure them in can be a dismal setback (actually a promising sign for viewers).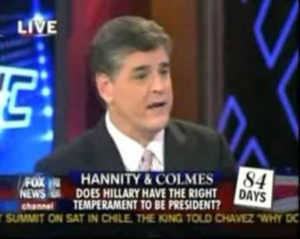 Aside from this younger crowd bypassing the bloviators altogether, something else must be done (a shift up to C-SPAN?). If not, Sean Hannity and Chris Matthews will continue to dwell on the stereotypes that have classified the current political environment. Hannity will scare viewers into believing that the current administration is enabling the welfare state, and Matthews will continue to take strides at casting Republicans as Old Guard bigots (Peter Jennings must be rolling in his grave!).
Monmouth University Specialist Professor of Communication, Andrew Demirjian, struggled to be optimistic about this issue. He said, "(It) has gotten out of hand in the last ten years or so…The 24-hour news channels have become bastions of misinformation. To me, the capitalist drive for market share creates an invisible hand that gravitates toward sensationalism…I don't think it's a healthy diagnosis for their futures."
So, although we've already reached the point of no return, kicking some of the triumphs of early broadcast pioneers in the rear, we're still in a position to determine what's next for journalism. For as long as we hold the remotes in our palms, we can largely control the plight of this stylized broadcasting. Now, if there are no ombudsmen out there telling you so, be your own. Change the channel, to C-SPAN!
---